I updated my Roon server and client from v1.2 to v1.3, and after a couple of hours the only music I see is still just imported Tidal tracks and the Internet Radio streams I'd defined.
I don't see any signs of a status indicator under Library, I don't see the high CPU load I'd expect if there were massive rescanning going on, and under Storage, I just see entries of the form:



…which don't seem to change.
If I look at Playlists, they seem to contain the tracks they should, but every track is marked as "unavailable".
If I try +Add Folder -> Browse…
…I see the title "Choose Music Storage Folder" over a big blank section of window, no parts of the server's file tree [is that what's supposed to be there?] shown.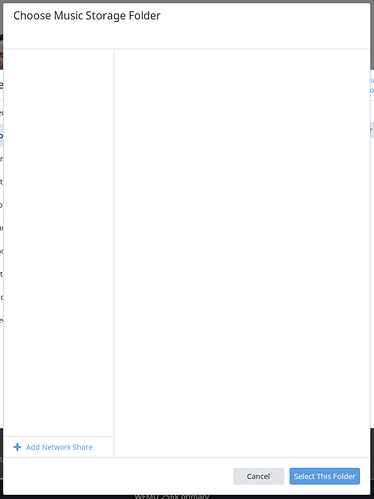 Now… all I can think of about my setup which may be different from other installations is that RoonServer is not being run as root. Obviously, one doesn't run a daemon with more privilege than it needs, and when I first installed several versions ago I particularly wanted to make sure RoonServer would run as a user which has read, but not write, access to the music library - since the library is precious. RoonServer has write access to where its own library database is stored, of course. This setup has been working just fine throughout the v1.2 times and earlier.
RoonServer runs as user "roon" (by the way, is a non-root install a standard install option yet?) and I've confirmed that I can change to that user and access the library files… so I don't know if the non-root UID the server is running as has activated a bug or if there's some other issue. Any guesses?
Thanks!
P.S. If seeing paths above beginning with "/Volumes" raised an eyebrow in the context of a Linux server, note that when the Linux RoonServer first came out, this library got migrated from a Mac to Linux… so there are some symlinks involved to keep the paths intact. But note that the file browser above doesn't show any local files on the server!