I have the same problem.
I can playbTidal but nothing from my external USB. Please help. Using OS X
roon 1.3
mac os 10.12.2
Intel HD Graphics 4000 1536 MB
2.7 GHz Intel Core i7
16 GB 1600 MHz DDR3
usb
36000 tracks
also files seem to be downsampling to pcm
starting upload now, but it doesn't seem to be uploading… also says 10kb/s seems like it would take forever…m over 11.6mb
They're with our developers, should have some feedback soon Oliver. Thanks for your patience!
In the meantime, if you could confirm: All of this content is on a USB drive, is that right? Only one machine running Roon? Can you describe the network?
Thanks!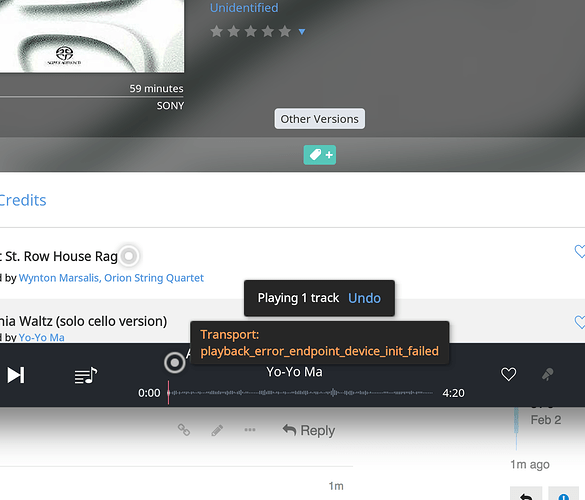 i am using one usb drive… not sure what you mean about describing my network…
I know that the unit plays back flac files (sometimes after a long delay), but dsd files are giving me the error message uploaded in the screenshot attached… dsd wont play at all…
also, can you tell me why i can't get top the screen which tsalks about upsampling low rez to dsd? i don't see that anywhere… or any eq section… how do i get there… i have checked every choice in settings…