1.8 has introduced several changes to the way box-sets are now handled. The most important is "focus". For those of us with meticulous Classical tags (alas not myself) and a habit of navigating on a composition-by-composition rather than disk-by-disk basis (again, alas not myself) this is probably an advance. For those of us who have patchy tags and prefer to navigate a box set on a disc-by-disk basis, 1.8 doesn't offer very much.
Lets look at this small 8-disk box-set.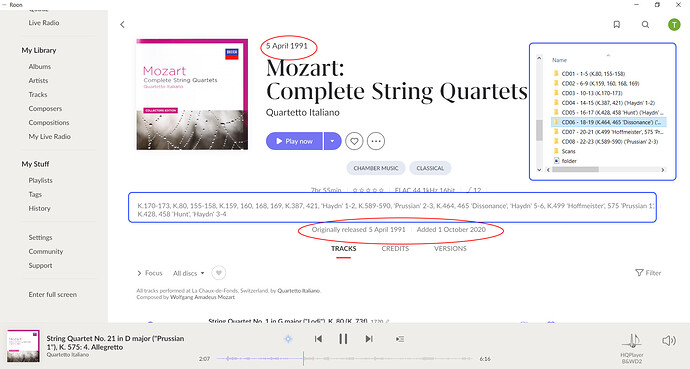 First. In 1.7 we used to get the recording date, the original release date, the release date and the added date. All the dates were grouped together on the screen. Now they are split apart. Why? Also there is no recording date. This is particularly important with box-sets because they are usually re-releases and the modern art-work gives no visual clue of the recording and original release dates.
These Mozart quartets were recorded between 1967-1973, more than half a century a go, for example. In what looks like a regression error, this information is lost from the 1.8 screen. The dates will tell me that "A" has probably been tuned differently to a modern recording, the recording is not up to modern production standards, and if it is live everyone is coughing their guts up from cigarette smoke. That's important if I am trying to achieve a listening experience (maybe but not necessarily with a playlist) that is consistent in terms of quality of the recording, tuning and mood. In any case, the original release date and release date are also being mixed up. Why? Can the regression errors on the dates be fixed please? 1.8 is not an advance on 1.7 as far as date handling is concerned.
Second. I don't browse a box-set on a "composition-by-composition" basis anyway. I browse on a "disk-by-disk" basis. I suspect many do. So generally when browsing a box-set I will go for the disk with a mix of things I would like to listen to and play the whole disk. So I wouldn't invest the manual effort to get focus working properly for a Classical box-set in any case. The value to me of the manual tagging effort is roon's ability to squirrel out hidden compositions in box-sets more indirectly in the discovery, recommendation and radio tools. Then I notice a worthwhile improvement in my listening experience. But that is a completely different use case to the "groomers" who probably like "focus" and find that with a meticulously groomed local library they are getting a worthwhile benefit.
But there is something new in 1.8, the rest of us could potentially use. I can see listed out on this view are my disk labels. But what purpose do they serve?
The disk labels do not refer to the disks. The labels and disk numbers are disconnected. What possible use other than cluttering the screen can they then serve?
The disk labels are not hyper-links. If they were then you could at least use them to navigate to the disks. Then they would serve a purpose.
This is a curious piece of half-finished functionality. I see the value if you want to navigate on a disk by disk basis. Better, by far, would be the individual album art but it's better than nothing. I can imagine labelling 20 or 30 disks but not tagging potentially several hundred compositions. But why is it half-finished like this? I would be interested in roon's response on this. Is it a pointer to new functionality in a future release?