Roon Core Machine
I am in the 14-day trial period. At the moment, Roon Core is running on an M1 Mac mini with 16 GB of RAM. The Mac is running Mac OS 13.0.1 (22A400).
Networking Gear & Setup Details
At the moment, my music files are stored on a Synology NAS (DS1019+), which is connected via Ethernet to a Linksys router (Max-Stream AC2200 MU-MIMO Tri-Band). I have two basic switches.
Connected Audio Devices
I also have a iFi Zen Stream connected via Ethernet. This streamer is connected to a Benchmark DAC2 HGC via USB. I am NOT having any trouble playing music.
Number of Tracks in Library
My library has approximately 8,000 tracks.
Description of Issue
Issue 1:
For each of my DSD64 albums, I made a corresponding AIFF album (88.2/24) for my iTunes library. When I set up my iTunes and Audirvana libraries years ago, I added [DSD64] after the name of each folder containing DSD files. Roon generally doesn't pay much attention to these brackets, but compare the two Marquise Knox Band albums in the following screenshot.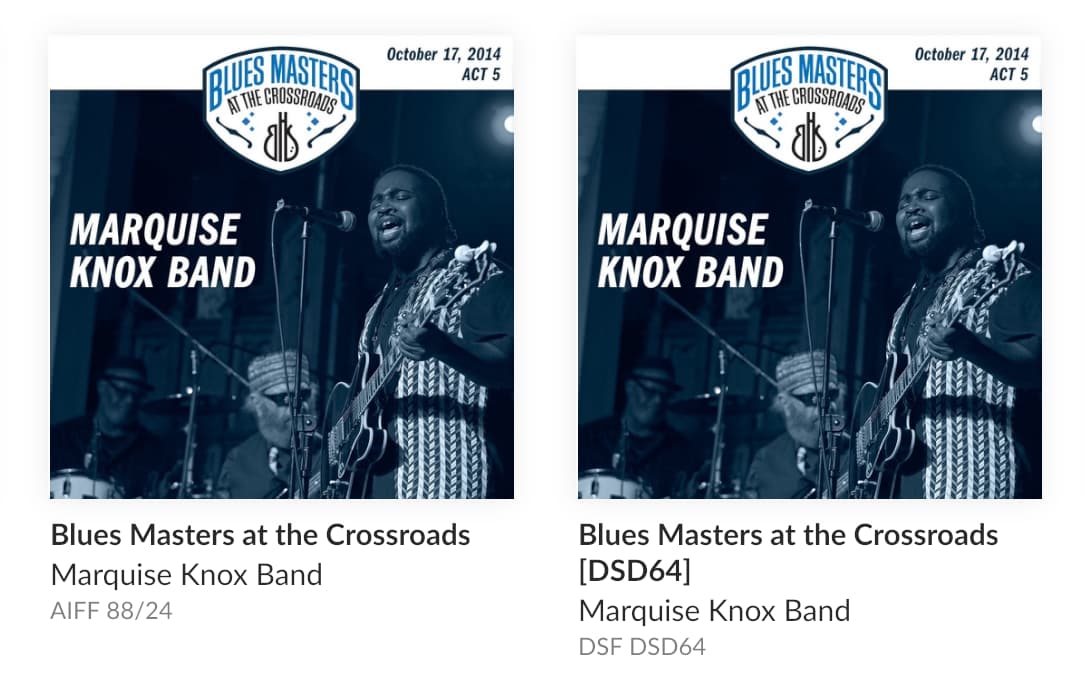 For reasons I cannot yet comprehend, Roon sometimes finds both albums (e.g., Marquise Knox Band; Just One of Those Things), but most of the time, Roon finds only the DSD album (e.g., Count Basie and the Kansas City 7; Love Is the Thing). Please compare the following screenshots.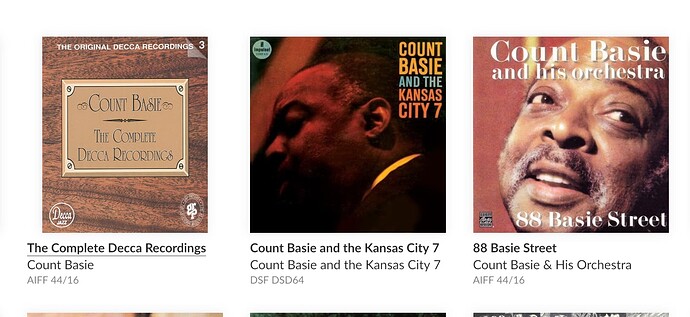 Eventually, I probably will delete those AIFF albums from my Roon library, but for the time being, I'd like to have both file types available.
Issue 2:
On my Mac, each album in the library displays the file type, sample rate, and bit depth, which I really appreciate. Unfortunately, these data do not appear under any of the albums in my library when I'm using my iPad, which is most of the time. Have you all considered showing these data on iPads?
Issue 3:
At first, Roon was linked to music files on an external SSD connected to my Mac. To get Roon working right, I had to match a number of albums in my library and fix artist's names, etc. ("little fixes"). When I linked Roon to the music files on the NAS, I lost some of those little fixes. I didn't have to reinvent the whole wheel again to get Roon working right, but is there a way to keep these little fixes associated with my music files? I don't want to lose them again when I back up my NAS to a second NAS. In addition, if all goes well, I want to buy a smaller NAS and have it run Roon Core and store my music files.
Thanks.