Content you're reporting an issue with
This concerns the album Art Pepper Presents West Coast Sessions, Vol. 2 Pete Jolly
Have you made any edits to this content in Roon?
Yes. I changed the ensemble identity to Pete Jolly and His West Coast Friends (the album was originally released under his name becuase Pepper was already under contract to a different record company)
Is the album identified in Roon?
Yes, but with slightly different metadata - see above
Is this content from local files, TIDAL, or Qobuz?
This is a local file
Screenshot of import settings
Description of the issue
While all tracks all the same personnel metadata (except composer), roon displays different (actually less) information for some tracks. Here are the credit information for two tracks: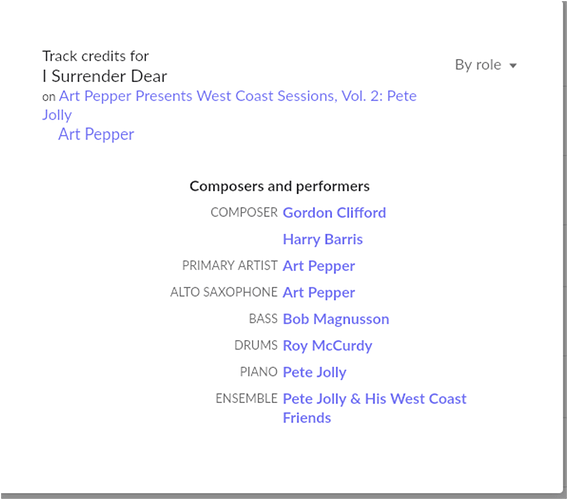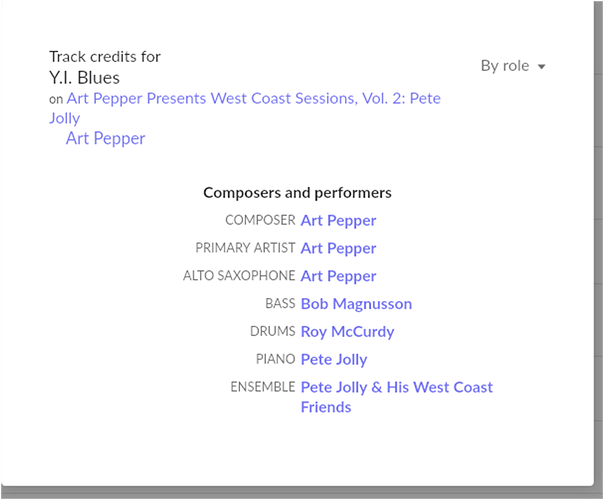 But the Ensemble information is shown in the track listing for only the first of these tracks

Why does roon treat these tracks differently? There are actually two additional alternate tracks for Y. I. Blues and neither has the Ensemble information displayed; another track Everything Happens to Me is also missing the Ensemble data in the track display. All these have the same metadata as I Surrender Dear.