I am slowly getting into the mindset of using the automation available to me rather than laboriously retagging stuff. It's a HUGE boon.
It takes time for us some of us luddites to let go of the "old ways", and it's highly important the work Roon is doing to take the drudgery out of this hobby. I am nearly there with my goal of ignoring discrepancies in my extensive collection because of the overwhelmingly +ve system we now have in place with Roon.
I think the "Identify Album" feature is thus one of the most important features within Roon and is the heart of the ethos of minimising manual input.
I would strongly urge Roon to have a look at the way this is implemented as, with a small couple of tweaks, it could be fantastic.
Currently I have around 700 of 8000 albums which remain unidentified and, for the ones I have been checking and trying to manually identify using the Edit album feature, I notice they remain unidentified mainly due to discrepancies in track listing order and timings.
for example…
I have a 4 disc/album set of Fleetwood Mac rumours, but for the life of me I can't even identify this basic of all Rock albums because of track discrepancies. There are 17 versions of it and none correspond. It really is on my life's too short list to painstakingly use the up/down arrows to frustratingly try and put the tracks in order. It's like one of those puzzles where you have to slide round those squares for hours trying to get them in the right order!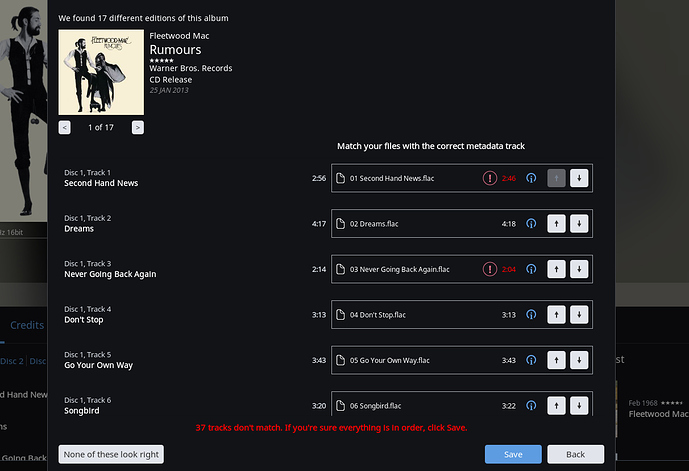 Thus, for unidentified albums, on the whole, the tagging in my files is correct in terms of tracks names and such, so it would be GREAT to have a selector button in the manual identification procedure to "Keep existing track data" That way, we can manually identify albums, with Roon using best match for albums, and adding credits, album art and bios, etc from the Roon-base, and uses track data from file tags.
Then we could use the focus aspect to highlight all unidentified albums and manually identify them in one fell swoop, setting Roon to ignore track discrepancies.
I guess then out of 8000 albums, only a handful will truly remain completely unidentified as real oddballs. You could even put in a Focus criteria as "Manually Identified" to differentiate to those albums which are Auto-Identified.
Thanks for considering.