i7 Small Green Computer / Roon 1.6 build 401 )
I have an 8 TB hard drive connected to an i7 Small Green computer. The i7 Small Green computer is connected to a trendnet switch. A cable modem router is also plugged into the trendnet switch. The trendnet switch is connected to an ethernet powerline adapter. In my audio room, a netgear switch is connected to the other ethernet powerline adapter. An ultraRendu is plugged into the netgear switch. The ultraRendu via usb is plugged into the dac of an Oppo 205
When I use the i7 SGC as the Roon core it plays for a day or so with no problems. Then it begins to chronically lose connection. If I reboot the i7 SGC it sometimes re-establishes connection. At other times I have to re-boot the i7 SGC several times. Additionally, the following often comes up:
Adding music to Library: Of 18 tracks, 0 added, 0 identified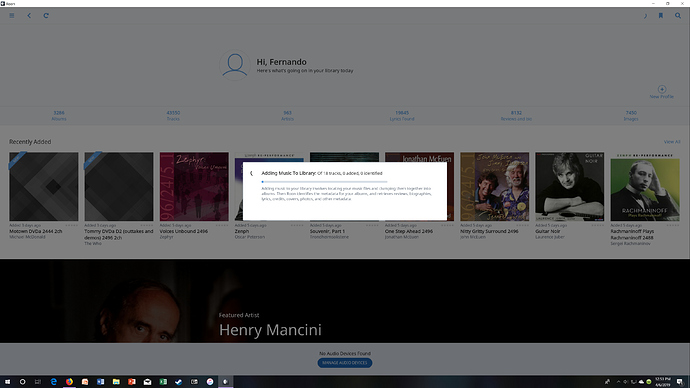 When in this state Roon does not play music.I have left the i7 SGC in this state overnight and the next morning nothing has been resolved.
Is the i7 SGC chronically losing connection and the Adding Music to Library issue related?
How can I resolve these issue? Are these 18 tracks corrupted? If so, how do I find and remove them?
I also have a NUC core (Windows 10) that with the identical hard drive that plays with no issues and does not have the Adding Music to Library issue.
Thanks,
Fernando