Roon Core Machine
Ubuntu 20.04.4 LTS (GNU/Linux 5.4.0-120-generic x86_64) installed on Intel NUC 11 w/ Core i7-1165G7 and 4GB of RAM.
Networking Gear & Setup Details
iFi Zen Stream > Ubiquiti USW-Lite-16-PoE > TL-SG2424 > Ubiquiti EdgeRouter ER4 > 1Gbps fiber Internet connection
Connected Audio Devices
iFi Zen Stream > USB > Topping U90 > coax > Topping D90SE
Number of Tracks in Library
764 tracks (I rarely listen to local library, mainly listen to Tidal)
Description of Issue
I did a fresh install today (not because of any issues) and restored from a day old backup. Everything seems to have gone fine (this is my first time doing a restore) except the About page now shows "There was an error checking for an update".
From my mac: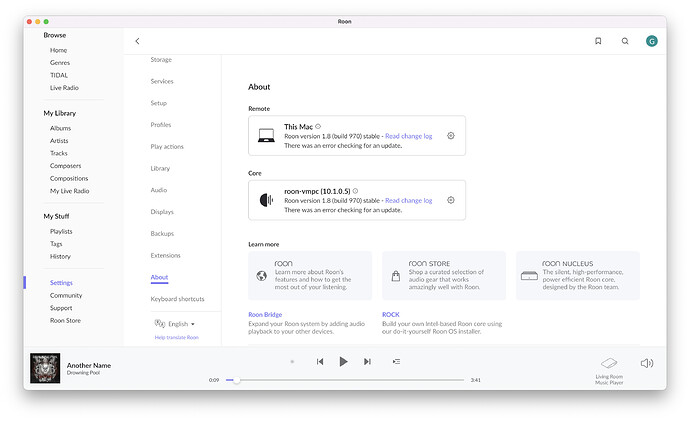 From my iPhone: