Album arts not showing in remote LG V50 with Android
Core Machine
OS: Linux GentooPlayer v.6.10-28 64 bits
Kernel: 5.11.4-rt-rt11-x86_64-GP-RT-ST
INTEL NUC NUC8i5BEK
CPU: Intel Core i5 i5-8259U
RAM: 8GB DDR4-2400
Roon Server/Core: 1.8 Build 795
This PC run only Roon Core service
Bridge Machine
OS: Linux GentooPlayer v.6.10-28 64 bits
Kernel: 5.11.4-rt-rt11-x86_64-GP-RT-ST
INTEL NUC NUC6CAYB
CPU: Intel Core Celeron J3455
RAM: 8GB DDR3L-1866
Roon Bridge: 1.7 Build 571
This PC runs only Roon Bridge service
Remote mobile (with problem)
LG V50 ThinQ (Model LM-V450PM)
OS: Android 10
Kernel: 4.14.117
RAM: 64GB
Store: 128GB (78 GB free)
Roon Remote: 1.8 Build 795
Remote PC
Lenovo IdeaPad 510S
OS: Windows 10 Home
CPU: Intel Core i7-7500U
RAM: 8GB DDR4-2400
Roon Remote: 1.8 Build 795
Network Details
Ethernet 10Gbps for Roon Core, Roon Bridge and NAS
Wi-Fi 5 (802.11ac) 5GHz for mobile devices and PC
Switch router: Linksys EA6400
Audio Devices
DAC RME ADI-2 DAC FS
Library Size
Music files is stored on NAS, currently 2484 tracks, also Tidal.
Description of Issue
Hi,
The problem is in the albums arts, but only in the Remote LG smartphone. I don't have issues on the PC or on the Amazon Fire HD8, I also use both as Roon Remote.
In the LG smartphone the album arts don't appear in the Roon Remote. I can do the trick to clean the image cache in the configuration, this solves the problem momentarily. Then for some reason all arts including Tidal arts disappear. I have tried reinstalling the Roon Remote, restarting the phone but nothing solves the problem. I also made a new installation of Roon Core and Bridge and restore the database Roon, but the problem persist.
Here are some screenshots of the last time with this issue on LG smartphone.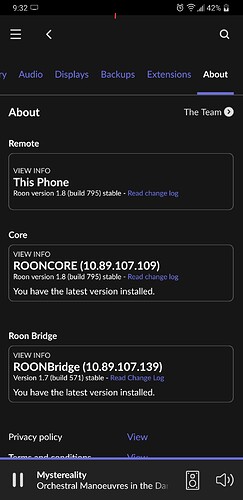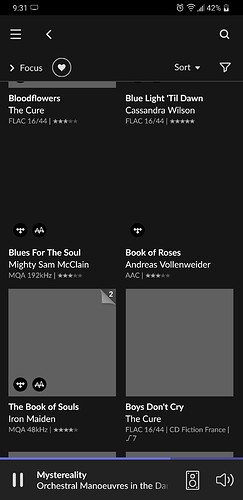 Thanks for your support!!