Hello @support,
This Qobuz album cant be seen in Roon.
Would you verify it please.

open.qobuz.com/album/3614591480089
I can see it from within Roon.
I can find it in Qobuz but not in Roon. I favourited in Qobuz, still doesn't show up in Roon, even in Qobuz favourites.
Would you be so kind as to add sharable link, like this for example: https://i.imgur.com/ESHwha5.png
Or screenshot - like attached example: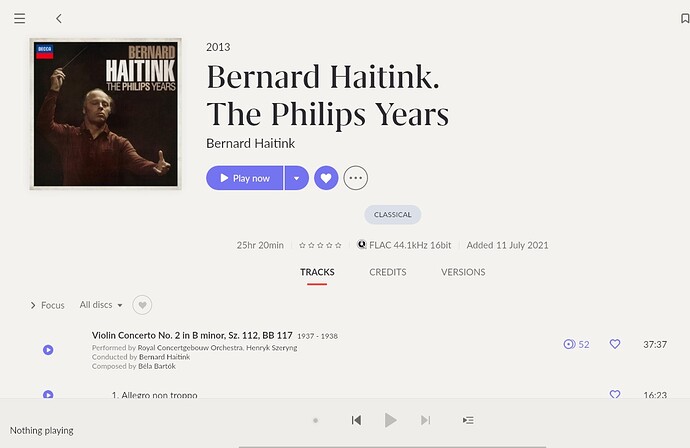 I checked and I have the same issue. Album does not get synchronized @support
Dirk
Hello everyone,
Thanks a whole lot for sharing this. I've notified the team so they can look into it

Hello

@Lonek, would you mind sharing the region that you're using with Qobuz?
The album appears to be streamable in all regions except for the US and Australia.
Hi Rebeka
Sorry to interfere, but streaming the album in Qobuz is not the problem.
The album is available for streaming and download in Qobuz, but it does not get synchronized to one's Roon library.
However, I just tried adding the album to my library in Roon, and this way it worked for me.
I started searching for 'Arthur Grumiaux' , selected Discography, and selected the album which was easy to be spotted. Adiing to library went well.
Still no explanation why hearting the album im Qobuz does not provide the same result.
Dirk
Dirk
Absolutely no interference, @anon90297517. More like valuable contributions

I appreciate you sharing the work around that seemed to resolve the issue for you.
@Lonek could you please share how things stand for you?
Once we have a better grasp of the issue - some details - our technical team can chime in too.
@beka Like @Lonek, a few days ago I was unable to see the Tchaikovsky/Grumiaux album in Roon, despite it being favourited in Qobuz. Nor did it show up in the Qobuz favourites section in Roon. But tonight it did show up in the Qobuz favourites section of Roon, but not in my library. I added it to my library, and now it is there. Not sure what more there is to grasp about my previous post or @Loneks.
Thank you.
Now it works

I can see this album.
I'm not from "prohibited" region.
I added the latest album from John Mayer "Sob" on my Qobuz app, along with other releases from this week, the only album that doesn't show on Roon is Mayer's album. I can't add it from Roon as it doesn't show up at all, only the Tidal version.