After the text perhaps a list of the albums in release order.
The text of the band / artist. Just a thought for a quick reference rather than reading the whole script for those unknown gems. Pretty minor addition, but not all albums show in Tidal / home store.
Hi John,
Don't you just scroll down the page to see all of that information or am I missing something.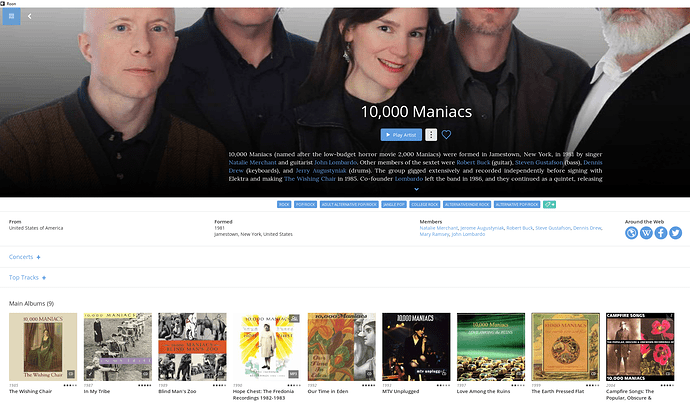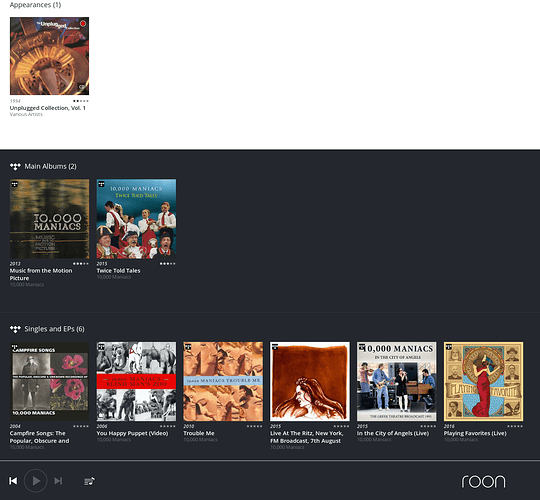 I presume John means a full discography as if the album is not in your library or Tidal's library - it's not mentioned anywhere in Roon.
SJB
Yes that's exactly it. Roon /your library/Tidal will not show everything.
Got you I see … a complete discography not just what our libraries and Tidal have.
If the artist in question has a Wikipedia button (as does 10k Maniacs in your pic above), you're probably just 2 clicks away from a very detailed complete discography…
If Roon also implemented a Discogs button (please do), then you'd have even more detailed info within a click or two.
And adding an AMG button would complete the trifecta.