Wagner: Parsifal by Herbert von Karajan was not found on Roon's Tidal search but was found in Sonos' Tidal.
It's there, but it's under an artist called "Berliner Philharmoniker & Herbert von Karajan" and is really difficult to find.
Search for "Herbert von Karajan"
Go to "More results on TIDAL"
Next to "Artists", click on "View All"
Depending on your resolution, I found "Berliner Philharmoniker & Herbert von Karajan" on the 2nd page.
It's then listed under "Singles and EPs (138)", 4th from left in pic below.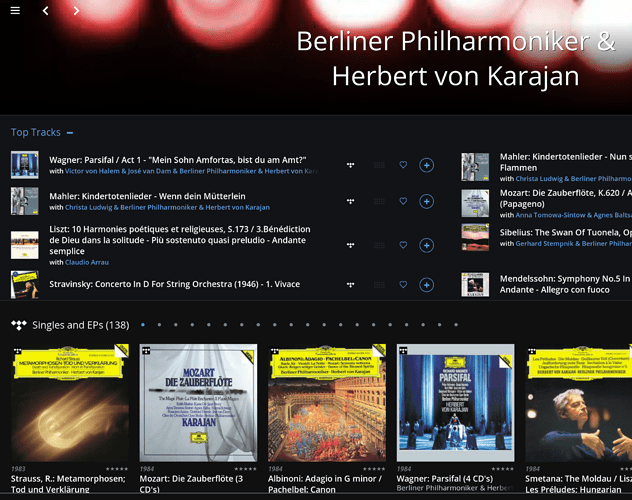 It's horrible and I logged a related bug today to get this sorted out.
Yes, indeed it is very difficult to find. Roon' search algorithm is not that good. I tried using just "Karajan" and I couldn't find the album. I tried "Wagner: Parsifal" also failed. What I did was when I found it on Sonos, I stored it under Tidal's Playlist, resync my Tidal on Roon, and play it from my Playlists.
This continues to be an issue for me.
This morning I was ready to pull the trigger and purchase "Jura" by the Mekons and Robbie Fulks on iTunes because Roon didn't show it as available through Tidal. Burrowing down through associated acts, Roon completely ignores "Salute the Majesty of Bob Wills" by the Pine Valley Cosmonauts although that album and several others that don't show in Roon are available directly in Tidal.
What's worse, even after making "Bob Wills" a favorite in Tidal Roon refuses to add the album to my library. Restarts of both Roon and Tidal don't resolve this issue. I deleted my Roon Tidal cache to force it to add the Tidal Beatles collection, but don't want to do this on a regular basis.
For me, the Tidal integration was a big selling point for Roon. I can stream my existing collection through iTunes to all my current end points. Granted, there is some loss of fidelity for the convenience, but that could easily change if Apple should adopt MQA encoding for iTunes and Apple Music.
While I've been an audiophile since the late 60's and worked in the industry, I've always been a music lover first and the ability to reliably discover and listen to new releases remains key to the musical experience for me.
Sorry to be so long-winded, but I see these issues as being more important than being able to integrate audio output to the third party provider that's currently in vogue.
Any thoughts?