Roon Core Machine
Hi all!
I'm not sure if I'm doing something wrong here, or if this is really a problem with how Roon search function works?
I have a lot of live recordings that I like to set up so that the album title begins with the date it was recorded originally. Like for instance Bruce Springsteen - 1986-10-13 You Better Not Touch / Shoreline Amphitheatre, Mountain View, CA, USA. That's how I tag the album should it have an actual title.
So, to my problem.
If I make a search for 1986-10-13 I will find almost nothing. At least not the album I'm looking for.
But if I search for You Better Not Touch that album will show up instantly.
Please have a look at the attached screenshots.
This is super annoying since I might search for an album by date quite often, and not by title at all. Or even worse if I know the date, but it doesn't have a title at all. Then I need to know what arena it was recorded at. Which makes my mind go crazy even though I by now know tons of arenas all over the world by heart.
Am I doing something wrong, or is this an issue with how the search function actually works?
All the best from Sweden!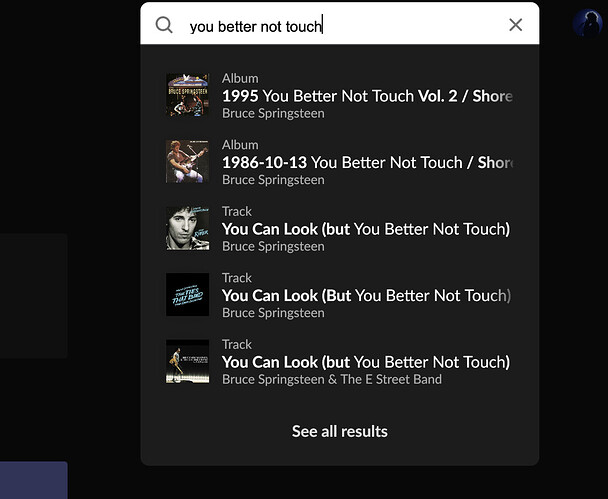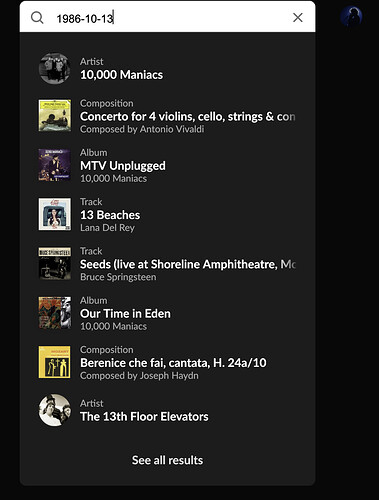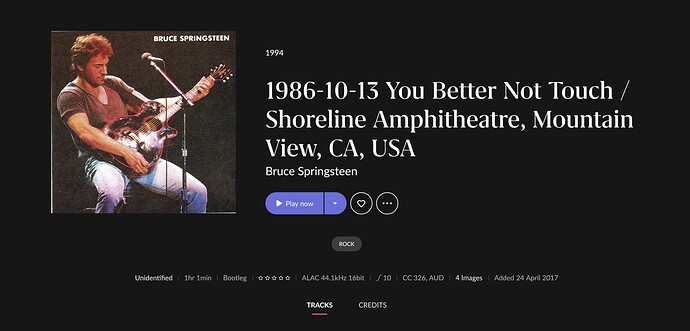 Networking Gear & Setup Details
Connected Audio Devices
Number of Tracks in Library
Description of Issue