Hi, Steven. Apologies for taking some time to get back on this thread but it's near Christmas and it's a busy time of the year.
As a general caveat just as a reminder, I am neither a moderator or affiliated to Roon but just a long-time user; I don't have advanced IT or technical knowledge so am really coming to this as a long-time (and obviously overall user). I haven't seen all your e-mail exchanges with Roon staff so what I may indicate may repeat what you have already been through and it may therefore seem irritating but it is not intended to be so! Please note that I am a PC user; it's unclear from the thread above if you are a Mac or PC user. This should not matter too much unless the problem is realted to Mac OS
Unless you have already established that your files are not scanned by Roon, in which case the solution to the issue is of a different nature (and may be solvable by copying your music to another drive, reformatting the existing one and copying the music back if you wish so but that should really only be a last recourse). I understand that this point may sound obvious but it is not because you can't find your albums that Roon hasn't scanned them. The 2 easiest places to figure this out are in the skipped files page (as indicated by Roon SSupport in earlier posts) and checking whether the total files scanned by drive correspond to the actual files.
1. Skipped files
Go to your Settings, in the Library section and check what files have been skipped. In my case it looks like this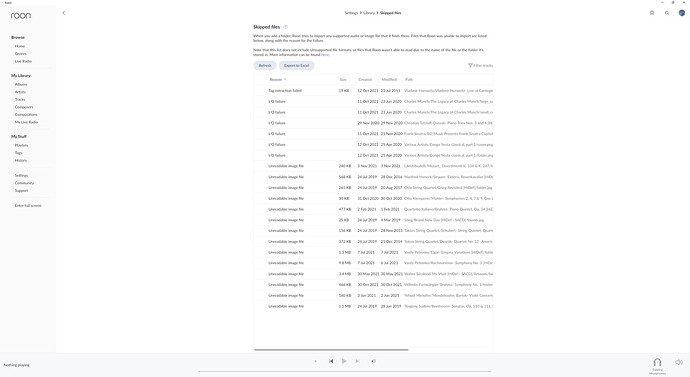 As it concerns image files and in one case the tag information, I ignore these files and haven't replaced them as all my 300k+ music files are picked up correctly.
I have had issues with corrupt files particularly when moving directories and files and usually recopying an original source file or, in the worst of case, re-ripping the original file solves the problem after a rescan. You may have to dellete the original corrupt file and then copy the new file rather than simply replace the file which has the disadvantage that you will nee to merge it back with the original album. If a whole album's files is listed as corrupt, then simply delete it and copy a prior or backup copy in its place, rescan the directory and see whether tha works.
2. Checking all your files have been scanned
I know this is again looking at the obvious but go to the Settings Storage screen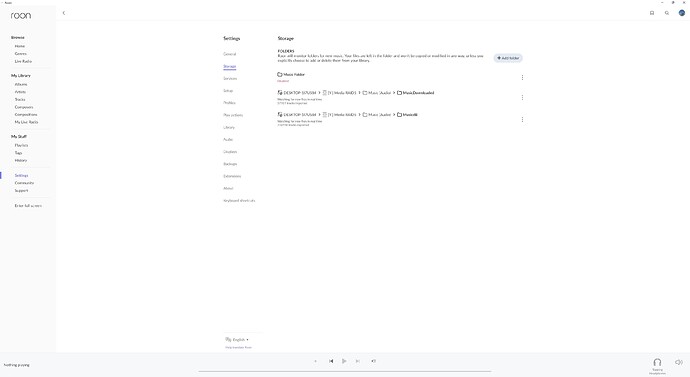 In my case I have 2 top level directories. The key is do those numbers of files correspond to the total music files you have. When you have over 250k files in one top level directory, it is not easy to check if you are missing a couple of albums (ie maybe less than a 100 files) and you can't do this by looking at the directory's properties in the system as the count in Roon is actual music (eg flac, wav or dsf or dff files) and not the total number that would appear if you look at a folder' properties that includes all the image files, thumbnails and subidrectories (and which is why when Roon is scanning it seems to be scanning more than your file number of files as it is looking at all the files before just giving you the total music files).
One easy way to know if one or more missing albums are being scanned (which would be very helpful to confirm because then you know they are either scanned or not identified correctly) is to create a new top level directory watch folder and to move a couple of missing albums in it. Then select a force rescan and if it then shows a total of files that corresponds to the number you moved across, it means that they are somewher in Roon, either skipped or misidenitifed.
Once you can confirm if your all files are being scanned, I can think of a couple of resons why you may not see them and make suggestions that may help you.
If they are not being picked up at all, that's more of a head scratcher but there may be solutions too.