Moving this to the Support area and tagging @support
Tnx. That was my intent when I posted.
Russ
Thanks @orgel
@Russell_Lachow – can you let us know exactly what you did here:[quote="Russell_Lachow, post:1, topic:25573"]
directed roon to my music files
[/quote]
Can you also give us the details of your setup (as listed here)? A screenshot of the Storage tab of Settings would be great too.
Thanks!
I'm running Sierra 10.12.4 on my late 2012 mac mini. My music files are stored on an external OWC Mercury Elite Pro 2x2TB in mirror mode connected to a USB port in the mac.
Don't remember how to do screen shots. And I don't know if something is wrong. Just sitting here with no indication of what is happening. I'm guessing that room is downloading my library of 520 albums. Be nice if something showed that if that is correct. My drive is still spinning.
Russ
Just clicked on the roon icon at the bottom of the screen. All it opens is a login to Tidal. Am I even in roon? We're off to a very bad start here.
Russ
There are some instructions at the bottom of the post I linked above.
I think screenshots will make this a lot clearer, so lets start there, ok? Looking forward to getting this working!
Cmd-shift-4 will get you a cross-hair cursor. Drag a marquee around whatever you want to show, and the file will be saved to the Desktop.
Cmd-shift-3 will take a picture of your entire desktop (which'll be saved to the Desktop).
OK Mike. You said a screen shot of the Storage tab of Settings. Settings in roon? I don't see roon running.
Russ
OK. I'm an idiot. Didn't see the No Thanks on the Tidal signup screen. Looks like I do have Roon running. Sorry.
Russ
@mike- sorry; I've been away for a few days. Issue (still) is I'm missing about 100 of my 520 albums after signing up with Roon one week + ago. Here is the screen shot of the Roon storage tab;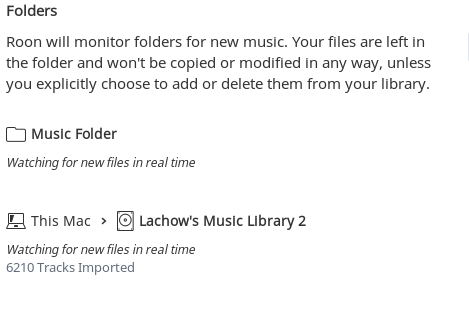 Hi @Russell_Lachow ---- Thank you for touching base and sharing this observation with us. The feedback is appreciated!
Moving forward, can you please confirm the following for me:
Did any of the missing content end up in "Skipped files"?
(Settings - > Library - > "Skipped Files")
Can you please go into "tracks" and on the far right hand corner of the screen you will see a little drop down arrow. Please click the arrow and turn on "path", which you will now see as an active field at the top of the track listing. Click this field and search for one of the tracks that is missing. What comes back?
-Eric
Hi Eric- nothing in skipped files. I'll try no.2 now.
Russ
I turned on Path but I don't know what the "active field at the top of the track listing" means. What to look for.
Russ
Active fields at top of the track listing:


Here is the field you want:


You may need to scroll over to see it.
-Eric
Ok Eric. I see what you mean now. I tried a few at random to see what happens. But I don't know what tracks are missing. I only know that I ripped 520 albums, only 424 are showing up. I'll have to investigate which albums are actually missing and then I can look for missing tracks in the listing and then click on them. Does that make sense?
I'll need some time to do that switching back and forth between iTunes and Roon. Probably not today. Thanks.
Russ
Hi Russell,
Some common reasons why files may not show up in Roon are set out here.
Another prosaic reason is if your previous music storage was counting dual CD albums or multiple CD collections as separate albums, but Roon identifies them and groups them together, then Roon will count them as a single album.
Comparing track counts rather than album counts is the way to go.
Hi Andrew- well, I went through my iTunes library and then compared it to what Roon is displaying. All albums are there except for three. Disc 2 of a Tony Bennett album and two copies of PS Audio's ONE album, one in 44.1, the other in 176.4.
Let's just say the much larger amount of missing albums were due to user error, and someone (me) is a dummy!!
I did notice that Roon grouped some of my multiple disc albums; that accounted for 18 additional albums. But I also noticed that many of my multiple disc albums were not grouped together. Strange?
Thanks for your input. All is well other than the three that are missing. Enjoying Roon immensely.
Russ
Hi Carl- Thanks for responding, all is well. Please see above.
Russ