Roon Core Machine
Roon OS. ROCK. NUC10i7FNH1 w/ 16gb RAM. 2TB HDD.
Networking Gear & Setup Details
Orbi mesh network access point mode, Ethernet backhauled, I use VPN on my iPhone and laptop but that shouldn't impact my Android DAPs
Connected Audio Devices
Relevant to this post:
FiiO M17 DAP
FiiO M11 LTD DAP
iBasso DX240 DAP
iBasso DX320 DAP
Irrelevant to this post:
2 Chord ecosystems: Roon Ready 2Go's connected to Ethernet → one hooked up to a 2Yu → M Scaler via USB and Qutest via DBNC; the other hooked up to a 2Yu → M Scaler via USB and Hugo TT2 via DBNC

Chord Hugo 2 interchangeably connected via digi-coax to a M Scaler that is connected directly to Roon Core via very long USB and to FiiO M17 DAP/iPhone as transportable DAC/amp

Topping D90SE connected to Roon Core via USB and Topping U90 via HDMI

Questyle CMA Fifteen connected to Roon Ready iFi ZEN Stream (Ethernet) via USB

FiiO K9 Pro connected to PC (USB) and FiiO M17 via 4.4mm line out

2 Sonos Move's via AirPlay

Chord Mojo connected to all DAPs and iPhone as DAC/amp

2 NVIDIA Android TV Pros
Number of Tracks in Library
52,116 tracks
Description of Issue
So, I'm not sure all the information above was necessary, but I'm not a frequent poster and the template requested all that information.
Long story short: all the Roon Remote apps on my Android DAPs are showing that they are incompatible with my Roon Core.
DAPs
FiiO M17 DAP
FiiO M11 LTD DAP
iBasso DX240 DAP
iBasso DX320 DAP
This is not isolated to one DAP. I have 4 DAPs and I am experiencing the same problem on all 4. As of right now, I'm unable to access the Roon Remote app from anything running Android. I have a Galaxy Fold Z (I think it's called) lying around that I can also try out.
Please note these DAPs are all running different versions of Android as well (Android 9, 10, and 11). Is this a known issue that others are experiencing? Please see attached screenshot.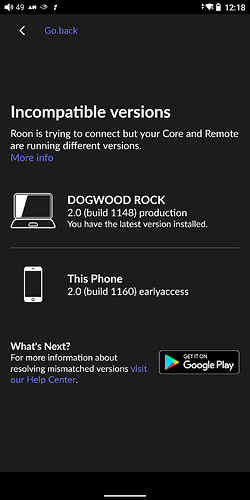 SIDE-NOTE
Roon ARC, holy buckets, is working very well with my DAPs. I am very pleased to see that I am getting bit-perfect playback via all 5 of my external USB DACs. All my local hi-res PCM and DSD files finally show as "lossless" and my local lossy-MQA files are unfolding. Same goes for streaming these file types (lossless and completely unfolding). Wow. Long time coming for that. I'm thrilled.
My iPhone, as always, is working well and enjoying teatime with Roon. I am, however, excited my DAPs might be catching up to my iPhone in terms of bit-perfect → USB DAC functionality like the iPhone.