Roon Core Machine
Windows 10 Pro core i7 16 gb memory
Roon Nucleus holds the Core. There have been quite a lot of updates lately and it has the latest update offered.
Networking Gear & Setup Details
Netgear Nighthawk R7000 sends Ethernet connections to three rooms, Office, Living Room, TV room.
Connected Audio Devices
Netgear Nighthawk Router > Ethernet >Roon Nucleus >
Ethernet > living room Audio Alchemy DMP-1
Ethernet > TV room Oppo
Ethernet > Office Berkeley Audio USB
(See schematic below)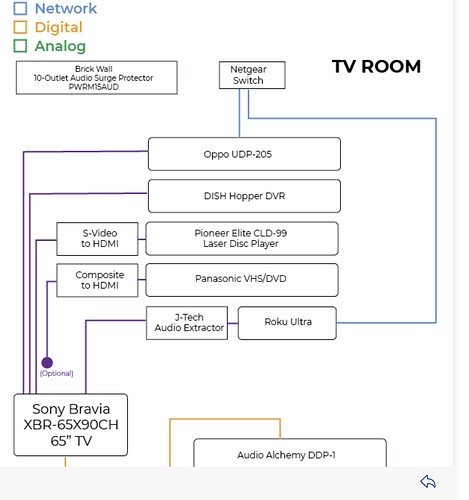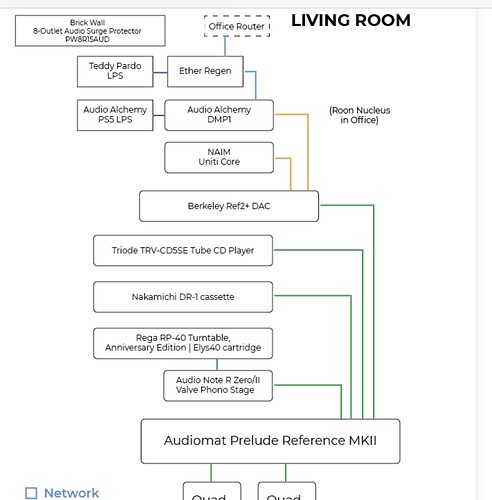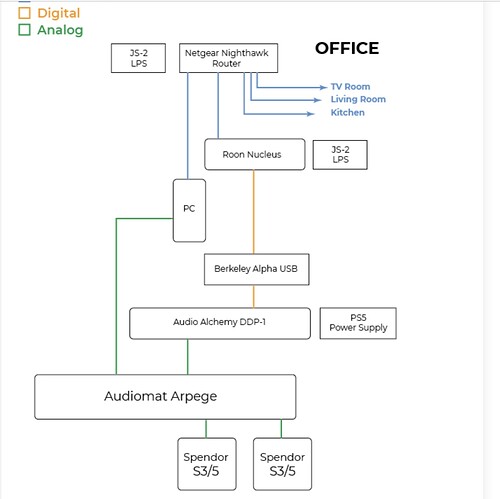 Number of Tracks in Library
I don't play tracks, I play albums. I have about 1000 albums.
Description of Issue
I turned my music on this evening and it kept "stuttering", meaning stopping and stsrting, sometimes very briefly, sometimes for a couple of seconds, but repeatedly and occasionally stopping completely. It would always restart. This was my living room system. I tried my CD player and the music was perfect. I tried streaming from the Naim Uniti Core and it was perfect with no "stuttering". I then switched to the TV room. It was perfect for some time. I then grouped the living room and TV room. At that time I got a message that "audio was loading slowly. That may indicate a performance or a hardware problem". The LR continued to stutter while the TV room played normally. I shut down the living room and listened for about the length of a CD. All of a sudden the stuttering began in the TV room. then began the typical pattern of almost constant stuttering that was unlistenable. Meanwhile I restarted all my pertinent gear, the Roon Nucleus, the Audio Alchemy DMP-1, the iPad app, to no benefit.
PS Edit: one other weird thing. Early on in the process the system went through a period where only one speaker was working! I swapped RCA interconnects at the amp and no sound persisted on the other speaker. And then that problem spontaneously disappeared.