Darko squeaks about it at 4:13
Mine has been delivered today. Setup is very easy and straightforward. It showed up in Roon as an AirPlay device and works as expected.
I cannot say too much about sound because it is in a secondary system in the kitchen.
I have not managed to use it as a squeezelite renderer, yet. Roon cannot find it as a squeeze device. Need to do some more fiddling.
Great for the money.
Have you enabled squeezebox support on the setup tab in Roon settings?
I took a punt on one of these units a couple of weeks back. Looks like a steal for the price.
Not sure when mine will ship. Bought it from the UK disrubutor and I have a unit allocated from their second delivery from Polyvection.
Read a few reviews of the unit on the squeeze forum. Folk were impressed.
Have you received yours yet?
Received it today.
Have just set it up 2 minutes ago.
Was straight forward enough.
This is how it appears in my devices list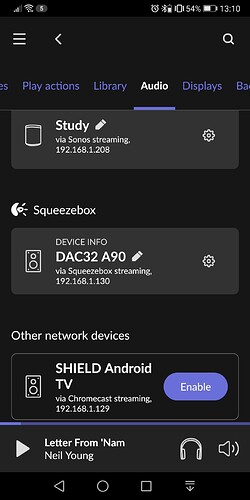 Did you manage to get yours setup as a squeeze device?
I'm amazed at how tiny the DAC32 is. I knew it was small, but not this small.
I quickly found out that communication between my server ( on W10 NUC ) and the DAC32 was blocked by the Windows firewall. When I disabeld the firewall it worked. I use Norton on the NUC so I thoght I could do without the W10 firewall. Micrsoft seemed to think differently. There was no way to switch it off.
After a few weeks I cam back to the problem. In the mean time software updates of Windows and of the Roon server had taken place. And with no further intervention it just worked.
The DAC32 works reliably both on AirPlay and as a Squeezbox. Very pleased!