Darko squeaks about it at 4:13
Mine has been delivered today. Setup is very easy and straightforward. It showed up in Roon as an AirPlay device and works as expected.
I cannot say too much about sound because it is in a secondary system in the kitchen.
I have not managed to use it as a squeezelite renderer, yet. Roon cannot find it as a squeeze device. Need to do some more fiddling.
Great for the money.
Have you enabled squeezebox support on the setup tab in Roon settings?
I took a punt on one of these units a couple of weeks back. Looks like a steal for the price.
Not sure when mine will ship. Bought it from the UK disrubutor and I have a unit allocated from their second delivery from Polyvection.
Read a few reviews of the unit on the squeeze forum. Folk were impressed.
Have you received yours yet?
Received it today.
Have just set it up 2 minutes ago.
Was straight forward enough.
This is how it appears in my devices list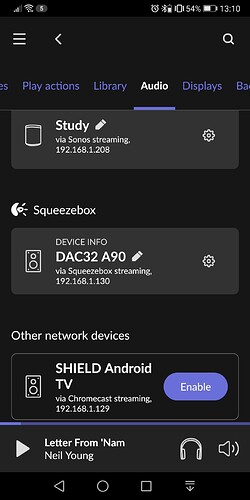 Did you manage to get yours setup as a squeeze device?
I'm amazed at how tiny the DAC32 is. I knew it was small, but not this small.
I quickly found out that communication between my server ( on W10 NUC ) and the DAC32 was blocked by the Windows firewall. When I disabeld the firewall it worked. I use Norton on the NUC so I thoght I could do without the W10 firewall. Micrsoft seemed to think differently. There was no way to switch it off.
After a few weeks I cam back to the problem. In the mean time software updates of Windows and of the Roon server had taken place. And with no further intervention it just worked.
The DAC32 works reliably both on AirPlay and as a Squeezbox. Very pleased!
I'm trying a Dac32 atm but can't get it to show as a squeeze box device in roon - the loading circle just keeps on going. It is available as an AirPlay end point.
I've tried a reset a number of times in the Dac32 browser interface, made sure the roon and the DAC32 are on the same network, but to no avail. I can not see the device in squeeze box players - I obviously have the slider setting to display squeeze box players in roon turned on.
I have roon on an innuos zenith, I'm using a MacBook as controller for roon and the zenith is working off the lan of a Wi-Fi extender picking up internet via my main router via Wi-Fi. The MacBook is on the extender ssid . It could be it doesn't like the extender set up but why work fine as an AirPlay device ?
I wonder if any sq difference is notable as a squeeze box player - presumably yes because you have the full resolutions of roons protocol.
Anyone who has more experience , would really appreciate feedback
Hello, fellow DAC32 user here.
There is not much I can suggest. Just one thought:
Roon cannot find squeezebox devices if there is another LMS squeeze server running on your network. Have you checked?
Thanks for suggestion. Didn't have any other LMS servers running but checked the innuos website (I use a zenith as roon core) and they say their servers run off LMS, so obviously that's the cause.
I can still play it as an AirPlay streamer in roon but limited to the AirPlay bit and sample rate which isn't a biggie for me as I always believe sq is dac and not really format dependent above lossless cd