Ever since I installed the build 233 version of the Android Roon app (a build 234 one hasn't made it through the pipeline yet), my phone hasn't been able to find the Core (which is now at build 234, but this was also the case with build 233); I'm unsure about whether the issue is related to the app upgrade or the core upgrade since they happened pretty much simultaneously, but I may remember having been able to connect to a build 233 RoonServer from a pre-233 Android app.
Build 233 and 234 Mac desktop Roon applications, though, have had no trouble finding the 233 or 234 Core.
RoonServer is on Linux, the phone in question is a Pixel XL running Android 7.1.2.
I've tried deleting and re-installing the Roon app, rebooting the phone, stopping and restarting RoonServer, and typing in the IP address of the server.
The app just stays stuck at the "Choose your Core" page.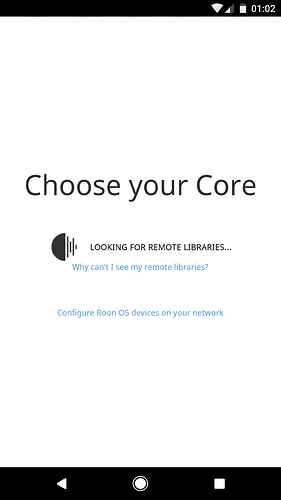 The app does seem to be reaching the server, though - note some entries in RoonServer_log.txt:
    06/08 01:30:03 Trace: [transport/raat] RAATServer discovered: RaatServer Jeff Moore's Pixel XL @ 10.0.1.220:37264
    06/08 01:30:03 Info: [transport/raatserver] GOT SERVER 8cb9379f-eea8-4661-6f96-fa0985ccdf47::8cb9379feea846616f96fa0985ccdf47 @ 10.0.1.220:37264 Jeff Moore's Pixel XL PROTOVER=1 RAATVER=1.1.19 
    06/08 01:30:03 Trace: [transport/raatserver] [RaatServer Jeff Moore's Pixel XL @ 10.0.1.220:37264] connecting (attempt 1)
    06/08 01:30:03 Trace: [transport/raatserver] [RaatServer Jeff Moore's Pixel XL @ 10.0.1.220:37264] connected
    06/08 01:30:03 Trace: [rnet/RnetJsonClient] SENT {"request":"enumerate_devices","subscription_id":"0"}
    06/08 01:30:04 Warn: Error in web request https://push.roonlabs.com/push/1/connect: NetworkError (The remote server returned an error: (502) Bad Gateway.)
    06/08 01:30:04 Trace: [push] request to manager failed
    06/08 01:30:04 Trace: [push] retrying connection in 2440100ms
    06/08 01:30:04 Trace: [rnet/RnetJsonClient] GOT NONFINAL {"status": "Success", "devices": [{"is_system_output": true, "type": "android", "device_id": "default", "name": "Default Output", "auto_enable": true, "auto_name": "Jeff Moore's Pixel XL"}]}
    06/08 01:30:04 Info: [transport/raatserver] GOT DEVICE 8cb9379feea846616f96fa0985ccdf47::default Type=android Name=Default Output 
    06/08 01:30:13 Info: [stats] 4815mb Virtual, 810mb Physical, 411mb Managed, 0 Handles, 45 Threads
    06/08 01:30:14 Warn: Error in web request https://push.roonlabs.com/push/1/connect: NetworkError (The remote server returned an error: (502) Bad Gateway.)
    06/08 01:30:14 Trace: [push] request to manager failed
    06/08 01:30:14 Trace: [push] retrying connection in 4924580ms
    06/08 01:30:17 Warn: Error in web request https://push.roonlabs.com/push/1/connect: NetworkError (The remote server returned an error: (502) Bad Gateway.)
    06/08 01:30:17 Trace: [push] request to manager failed
    06/08 01:30:17 Trace: [push] retrying connection in 6129075ms
    06/08 01:30:28 Info: [stats] 4815mb Virtual, 810mb Physical, 412mb Managed, 0 Handles, 42 Threads
    06/08 01:30:43 Info: [stats] 4815mb Virtual, 810mb Physical, 412mb Managed, 0 Handles, 41 Threads