Check out this innovative product:

I think this will be a great addition to any Roon system.
Have you cleared this advertising with the site owners?
At 'better than $750', what DAC are you claiming it is better than?
Opera Consonance Don Curzio is $1000 and has worse specs in almost all categories.
Bold claims. But how does this prototype DAC compare to other RPi hats or DACs utilising the Burr Brown PCM1794A?
As far as I am aware, at the moment there are no other RaspberryPi DAC hats that use the PCM1794A, there was one available years ago but it used the PCM1794A in a regular configuration, not in monaural mode.
Also if you want balanced outputs, your options are extremely limited.
The only other DAC that I know that uses the 1794A in monaural mode is the DAC DAC, which I also designed and it costs $1200. This DAC is also not RasberryPi compatable.

I am aware that this Burr Brown isn't used in other RPi hats. How does it compare to those available, of which some do have balanced outputs? Also, how does it compare to other sub $1,000 DACs utilising other components including FPGA etc.?
Hi Leo,
Interesting product. Are you sure about the name ? I could see another fairly well known company sending you a letter.
In order to operate as a network endpoint in a Roon system the underlying SBC would need to run Roon Bridge. Two popular ways to run Roon Bridge are:
DietPi, a lightweight Debian Jessie general purpose OS for SBCs that supports menu driven installation of Roon Bridge.
Ropieee, a dedicated image running Roon Bridge only.
Both these OS's are configured by the user to support various audio hardware HATs. Is the ApplePi compatible with any existing HAT configuration supported by these OS's or will it need its own ?
DietPi already has support for the ApplePi DAC starting in version 6.5.
I am working with Ropieee to get support.
The ApplePi DAC hat is compatible with teh Rpi DAC overlay.
Also my trademark has been approved by the USPTO.
Please see below for DAC comparison. The only other Balanced output DAC Hat that I am aware of is the HifiBerry DAC+ Pro XLR and it's performance is much worse (see table).
The ApplePi DAC with the Raspberry Pi together cost less than $250. At this price point you will not get any other DAC witht he same performance and features set, because the Raspberry PI is a computer which you can do a lot of things with.

Thanks. I missed the table earlier as I was using my mobile. I'm pretty sure the IQAudio Pi-Dac Pro has balanced outputs … the standard Pi-Dac is single-ended.
I guess I was seeking something more than a summary of technical specifications. I would like to have seen your claim of "the ultimate media player, costing thousands less than high performance DACs" based on some kind of head-to-head. Nonetheless, I look forward to reading some trusted reviews in the near future.
Maybe you could share some prototypes with this community?
I will be doing a demo of the ApplePi DAC and the CRISPIN amplifier in Long Island, NY on April 28th, There is room for a few more people. If you would be interested in attending send me a PM to get full info.
The Kickstarter project is now fully funded.
Get your ApplePi DAC product at a discount.
Just 20 days left in the kickstarter. This is the last time it will be available at this price.
RoPiee just added support see here:

The ApplePi Volume-Clocker allows you add hardware volume control to any Rapsberry Pi I2S DAC.
Volume is controlled by a potentiometer R15. Volume is adjustable from 0 dB to -127.5dB, in 256 steps.
In addition to HW volume control this board will also remove jitter from the RapsberryPi's I2S signals improving audio quality.
It can be powered externally though it's own micro USB (X6) connector or from the Raspberry Pi. The ApplePi Volume-Clocker cannot back power the Raspberry Pi.
Specs:
Dynamic Range: 144 dB (–60-dbFS Input, 20 Hz to fS/2, A-Weighted)
THD+N: –140 dB (0-dbFS Input, BW = 20 Hz to fS/2)
Supported Resolutions: 24-bit, 20-bit, 18-bit, and 16-bit
Supports sampling rates up to 212 kHz
*No drivers required.
The ApplePi Volume-Clocker can be added to any reward level for $79 USD, except for the touchscreen one. It can also be purchased separately for $79.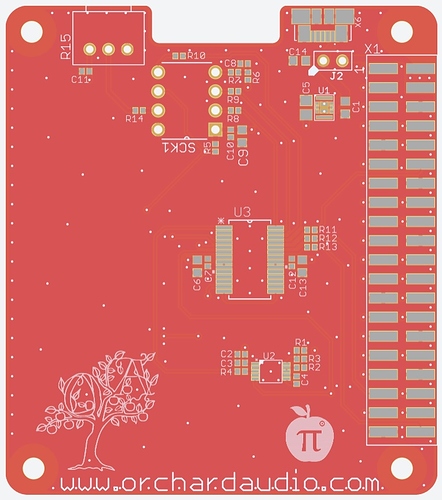 The ApplePi DAC went on a tour around the country. Here is what people who have tried it, have to say:
Wayne - Littleton, CO
"This is a very well engineered and built DAC. I again suggest folks sign up for the tour and listen yourself." and "I spent a good week listening to it and came away extremely impressed with what Leo has done with this DAC hat."
Alan - Harrisburg, OR
"I have had the Apple Pie for a while and I must say I am really impressed." and "Any way this is a dammed fine budget setup that punches way above it's weight."
Sharschchandra - Austin, TX
"The build quality is top notch and I really like the layout." and "The unit sound great out of box, very organic, almost neutral and full bodied (compared to ES9038PRO based DACs). The vocals were amazing especially on the JBL 4312B monitors."
Jerry - Camarillo, CA
"This is one sweet little Dac, Leo. I actually left work early today just to spend more time getting to listen." and "You have one helluva nice piece here; I appreciate the gracious demo."
The tour continues to this day, and will continue beyond Kickstarter. If you would like to sign up, go here:
https://www.audiocircle.com/index.php?topic=155479.msg1665901#msg1665901
<3 days left in the Kicksyarter.
$25 off ApplePi DAC
$400 off CRISPIN Amplifier
This statement is incorrect. IQAudiO does provide balanced / differential outputs with the Pi-DAC PRO.
Pi-DAC PRO, a new breed of audiophile DAC for the Raspberry Pi. With Phono (RCA), Heaphone (3.5mm) & support for Balanced / Differential output (for XLR use in Studio, or home studio)
I was wrong, but I only looked at picture of the DAC, and it does not have balanced connectors, so if you want a balanced output you have to do some soldering. Where as on the ApplePi DAC the connectors are there and ready to go.