Roon Core Machine
Dell OptiPlex 7050 MFF - Roon 2.0 Build 1128
i5-7400
16GB
Win10Pro 21H2
Networking Gear & Setup Details
All wired ethernet. Cable->ISP supplied Router (rebadged as NetMaster)->TpLink AX1800 Router
Connected Audio Devices
Kef LS60 (Chromecast)
Naim UnitiAtomHE
Various MacBook Pros and Windows Laptops
Number of Tracks in Library
70K+ tracks
Description of Issue
Can't get ARC to work. I have a multiple NAT situation. This has been solved by defining port forwarding on both of the routers and Plex is working perfectly like this. Unfortunately, I couldn't get Roon Arc to work with a similar configuration to Plex.
The IP of the tplink router on the netmaster network is 192.168.1.12
The IP of the Roon server on the tplink is 192.168.0.100 (not static but reserved to connect always to the same ip)
I tried ports 50000 and 20000 and the result is the same.
As stated before, the same config works with Plex albeit from a QNAP Nas.
The copy of the Roon Arc test is as follows:
{
"connectivity": {"status":"NetworkError","status_code":504,"error":"error: Error: ETIMEDOUT, response code: undefined, body: undefined connected? undefined"},
"external_ip": {"actual_external_ip":"46.2.XXX.XXX","router_external_ip":null},
"natpmp_autoconfig": {"status":"NotFound"},
"upnp_autoconfig": {"server_ip":"192.168.0.1","found_upnp":true,"error":"<s:Envelope xmlns:s="http://schemas.xmlsoap.org/soap/envelope/\" s:encodingStyle="http://schemas.xmlsoap.org/soap/encoding/\"><s:Body><s:Fault>s:ClientUPnPError<UPnPError xmlns="urn:schemas-upnp-org:control-1-0">718ConflictInMappingEntry</s:Fault></s:Body></s:Envelope>"}
}
The NAT configs of both routers: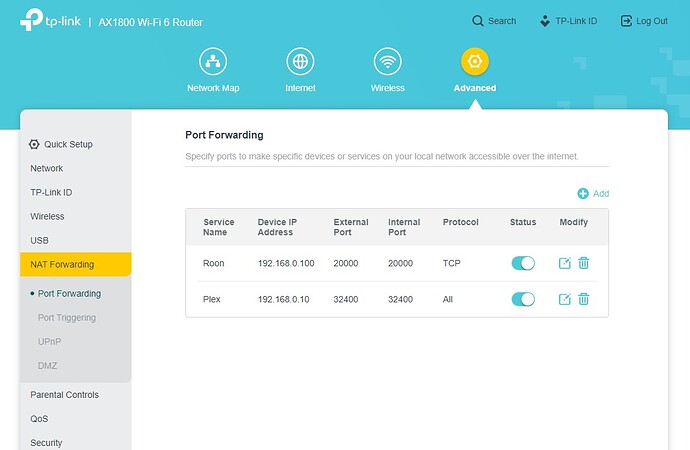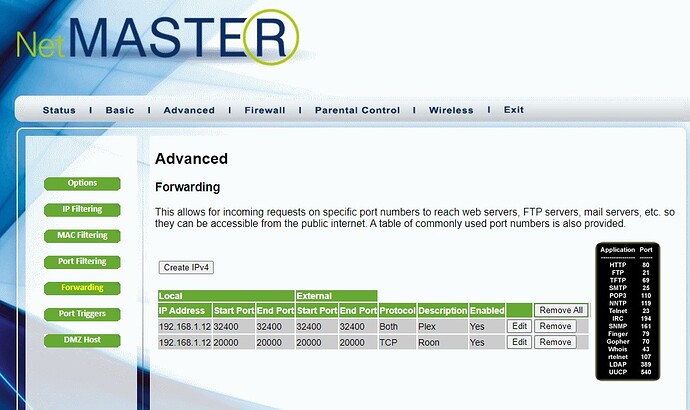 Thanks a lot for your support
Yaman