Roon version: 1.3 (build 216) 64 bit
OS: Windows 10, Version 1703, Build 15063.138
PC spec: i7 6850k, 32gb ddr4, gtx 1080,
Library location: internal WD Red 4tb hdd
specs cont. - https://pcpartpicker.com/user/Rumiho/saved/XvZwP6
Library size: approximately 30k tracks
DAC - Chord Mojo, latest drivers from Chord
When opening roon audio devices all show as disabled.
If the enable button is clicked roon will endlessly try to load the device.
Clicking anywhere stops the loading but the above repeats if enable is clicked again.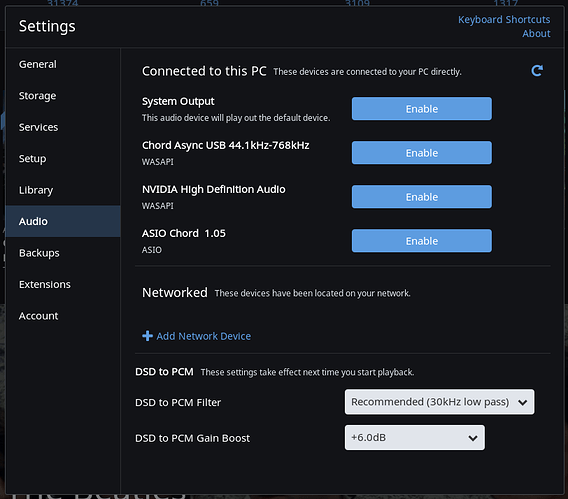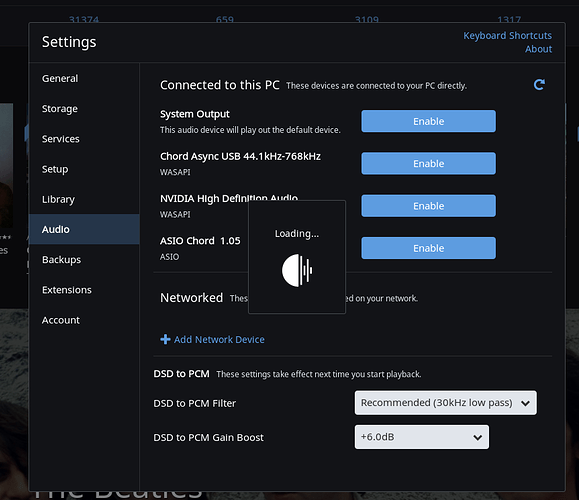 So far for troubleshooting I've tried:
uninstall / re-install roon --> loading a backup (multiple tested)
uninstall / re-install roon --> clean set-up (re-logging, etc.)
uninstall / re-install graphics drivers
uninstall all audio drivers and re-install most recent versions
tested dac with each usb port available
The weirdest part is that Roon was working perfectly for a few hours this morning then after closing/re-opening the issue started. The only update/change I can find that happened during that time was a Windows 10 cumulative update (KB4015583) which appears to mainly be just security updates.
https://support.microsoft.com/en-us/help/4015583/windows-10-update-kb4015583