Moved to support. What speaker and connected how?
Mac is connected to DAC (Weiss Engineering) via Firewire cable
amazing that I haven't heard anything for over a week!
Does the DAC appear in Settings → Audio?
Also, which model of Weiss Engineering DAC do you have? I just took a look at the latest models and they don't seem to have a firewire input.
the DAC is the model DAC2 (see DAC2 | Products | Weiss Engineering Ltd.), and the software on the mac is "Weiss Engineering MInerva)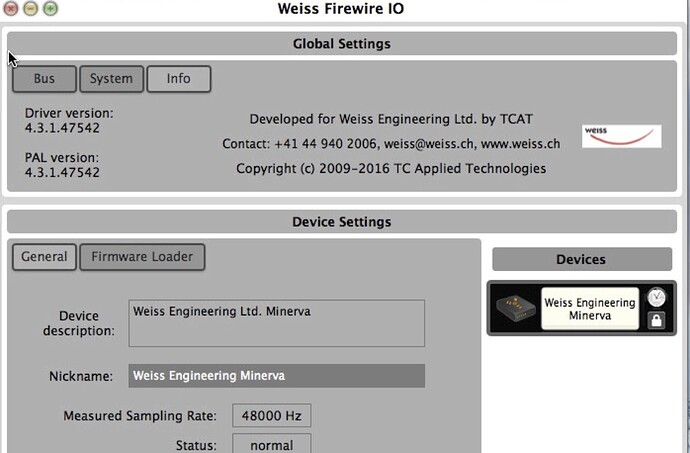 and, yes, it appears in Settings / Audio as "Weiss Firewire IO" with type "Firewire"
I think it might be useful if you could amend your original post to include the information that support will need, i.e. Roon Core Machine, Networking Gear & Setup Details, Connected Audio Devices, and Number of Tracks in Library. It might also be useful if you could clarify the problem. In your original post you mentioned a connected speaker, but now you're discussing your DAC.
Let me try again: Roon on Mac OSX 10.11.6 - doesn't identify connected DAC (Weiss DAC2, through Firewire (other sources outside of roon work with the current setup, e.g. Youtube, Spotify, etc.)
Roon Core version 1.8 (build 923) stable
Music on Dropbox / Music with 14739 tracks of 770 albums
on the Mac, under settings / Audio DAC shown as "Weiss Firewire IO" with type "Firewire"
I'm presuming the core is on the same machine?
Also, could you share / screengrab what you see in Settings → Audio?
In which case I'd suggest you try enabling the System Output zone in Roon. This should, I think, play to the Weiss DAC.
absolutely! This is what I used to do in the past. Problem is, I don't "see" it anymore in the roon / audio setup page…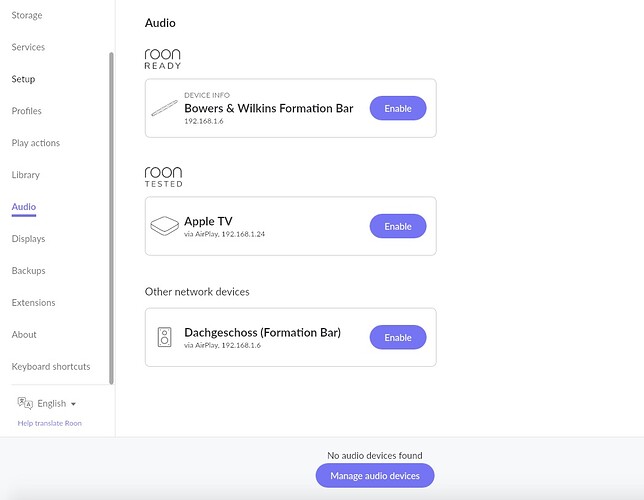 In which case, take a look at this thread. It suggests that you check your firewall, antivirus software, VPN etc. In short, anything that might interfere with device discovery.
Firewall has been turned off on this mac; I don't use any VPN or antivirus software, etc. This Mac is solely used to play music.
could it be that one of the recent upgrades "disabled" this device recovery function (it used to work seamlessly until probably February of this year?
is it possible to roll back these updates to check whether older version would work?
I'm at a loss, and don't have anything else to suggest, so I'll give @support a nudge - I think we've got about as far as we can on our own (which isn't very far at all).
We're. sorry tto hear that you're having trouble seeing the devices connected to your Mac. This issue emerged recently on MACs running. 10.13.6 and earlier. You can take a look at this thread for more details.
Some customers have resolved this with a RAATServer refresh. You can generate a new RAATServer instance on your device by following these instructions, but please be aware that this will reset your Roon Settings → Audio Tab to factory settings and I would advise making a backup of any custom DSP settings you have:
Create a Backup of your current Roon database
Exit out of Roon
Navigate to your Roon's Database Location
Find the folder that says "RAATServer"
Rename the "RAATServer" folder to "RAATServer_old"
Restart the Roon App to generate a new RAATServer folder
Please let us know if this helps!
GREAT! this worked immediately. Thanks for your support!
This topic was automatically closed 36 hours after the last reply. New replies are no longer allowed.
I'm glad that things are working for you now! Please feel free to reach out if you ever have any other questions or issues. Happy listening