EDIT - I changed the title of this topic to better reflect the issue, as identified with the help from @Arlen. See posts below.
I was confused about what I see on this albums overview, which I thought should show my currently downloaded content.
With the filter active it shows me 60 albums, with only 14 tagged with a tick for downloads. What are the other entries doing in the list?Just a snapshot here: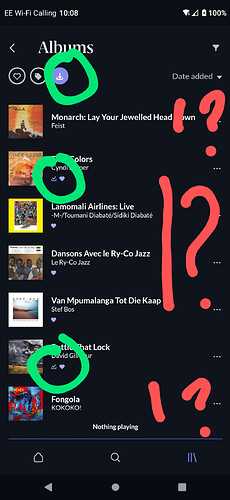 Am I misunderstanding the filter, or is there an anomaly here, with stale content showing?
Every album I see was downloaded at some point. But the ARC app has since been reset and cache has been cleared.

After, 14 albums where downloaded, and these show with the tick on this page. I thought the list above should be the same as what I see under Downloads - which shows only the 14 albums which I downloaded after the reset, as expected.

The Roon Server is on build 1179 and has been restarted at least once. Synchronisation of the library seems to work fine otherwise, reflecting new additions etc.

When playing any of the 14, path indicates playback of local content. When playing other albums from the filtered list, it indicates streaming from core. Again, as expected.