Roon Core Machine
Core resides on sonicTransporter i5
Networking Gear & Setup Details
Synology RT2600ac router
Netgear unmanaged switch
Core connected via ethernet
Connected Audio Devices
iPhone X connected via WiFi and 4G
Number of Tracks in Library
47000 tracks
Description of Issue
I was using ARC on my iPhone 8:30-9pm yesterday evening (GMT) without issue
Overnight I think Roon then automatically updated to the latest build, on both core and remotes.
I opened the ARC app this afternoon to download an album before going out and message "Core last seen 15 hours ago" displayed. The app will not connect to the core, or let me play downloaded material.
I have now tried the ARC connection test in Roon settings, but the test never completes; no message is displayed, just the circle of death.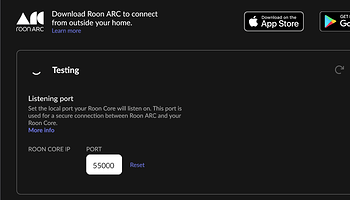 I have checked that the router config is still present, and it is (as per attached)


I have rebooted and restarted the Core and iPhone, but this has made no difference.
There have been no changes to my network overnight that I can see.
Roon itself operates fine.
I'm looking for help as to what to try next
thanks
Nick