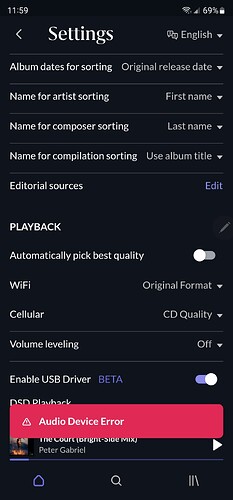 I did not test the external USB DAC with my old phone since any errors would be to the flaky USB port. Now that I have a brand new shiny Galaxy S23 Ultra, plugging in the USB headphone adapter (aka little DAC), I get this above message.
Headphone Adapter works fine in all other applications including UAPP and does play up to 24/192 through that application. I will try with a second adapter I have and will report later.
Also, when the adapter is inserted and ARC active, it has crashed after that message with an Android notification that says "Application has a bug. Install a newer version.".