I select Dave McKenna (stride jazz pianist) and, from his Artist Page, choose Radio. Some anomalies followed:
Other than the first cut, no McKenna tracks were chosen. (Sample 20+)
The Queue does not list/record any tracks. (just recently started)
The Queue suggests that Rick Braun is coming up next track. I give it a thumbs up, but it never plays, and never goes away. It always is the "Next track". (just recently quits):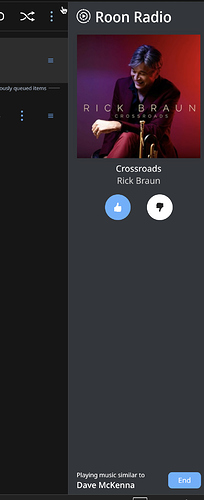 4. The cuts quickly diverge from the McKenna style, wandering into big band, vocals, BeBop, seemingly focused only on the word "jazz" which, as we all know, means very little.
5. The Queue button alternately takes me to the queue (good) and McKenna's artist page (bad).
The biggest disappointment is that there are numerous artists with dozens of tracks each that are 1) closer to my definition of McKenna radio, but 2) are never played. Nor are the cuts played that are in my local library.
An odd experience IMHO.