Hi Noris,
the folder contains 260 folders, about 6-7 screenshots, so I hope the upper one is sufficient?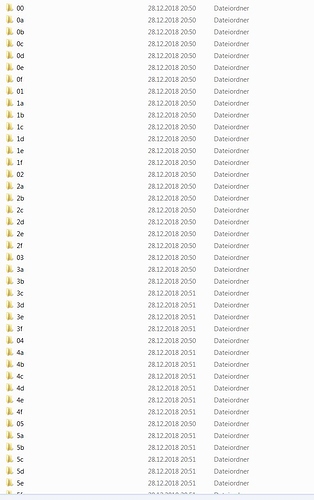 Hello @Daniel_Hildebrandt,
I am specifically looking to see if you have _roon_backup_root in the top level folder and _roon_backup in the screenshot that you posted. Can you please confirm if either of these files are present and if so post a screenshot of them?
Thanks,
Noris
Only _roon_backup is there. If I copy the other file from the upper folder, where it is and try to restore then, it also fails.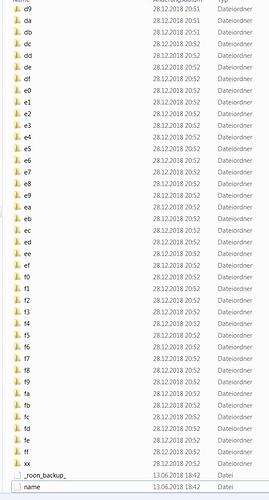 Hello @Daniel_Hildebrandt,
Thanks for providing those screenshots, QA is still taking a look to see what can be done here regarding your backup.
They are still confirming exactly what is going on here, but I am optimistic that we can help. I will be sure to let you know as soon as I have heard back from them.
Thanks,
Noris
Hello @Daniel_Hildebrandt,
QA believes that they have made some progress in repairing that backup archive. I have just PM'd you a link to the repaired archive. Please give it a try and let me know how it goes.
Thanks,
Noris
Hi Noris,
I am restoring right now and everything seems to work so far. Thank you for that. How can I prevent from having this problem again? I just did the usual routine with the backup…
BR
Daniel
Backups can fail. In IT we take multiple backups and test them, do test restores etc. It's a pain but as you have found, no test means no assurance.
If you have a spare pc or laptop around try test restores to that for assurance.
Hello @Daniel_Hildebrandt,
Glad to hear that the restore worked ok!

.
I would suggest keeping multiple scheduled backups of your Roon database. Personally, I backup every 3 days and keep a maximum of 15 backups, so if for whatever reason one goes wrong I can revert to an earlier backup.
I do not make many edits to my library so if you often groom your database, I would then suggest making a scheduled backup every day and keep 15-20 maximum. Either way, glad to hear you're up and running again.
Thanks,
Noris
OK guys, so thank you for supporting me and I keep doing the backups frequently.
Oh good. Glad you got it worked out
This topic was automatically closed after 9 hours. New replies are no longer allowed.