Core Machine (Operating system/System info/Roon build number)
Windows 10 / Ryzen 3600 + 16 GB DDR4 3200 + 1 TB NVME + GTX1060 / 416 64Bit
Network Details (Including networking gear model/manufacturer and if on WiFi/Ethernet)
HomePlug network
Audio Devices (Specify what device you're using and its connection type - USB/HDMI/etc.)
HomePlug -> Ethernet -> DietPi
Description Of Issue
When streaming 48 Khz 16 Bit tracks via the Tidal App I have no issues and the bandwidth of the stream received is some 200KB/sec (1.6 Mbits). When streaming the same tracks via Roon the bandwidth of the stream received doubles or trebles often hitting 5-600KB/sec. This behaviour is new and intermittent but regular enough to be extremely aggravating as I have a slow internet connection and this causes tracks to abort / skip.
The attached screenshot shows the bandwidth spiking as a test track is played then paused.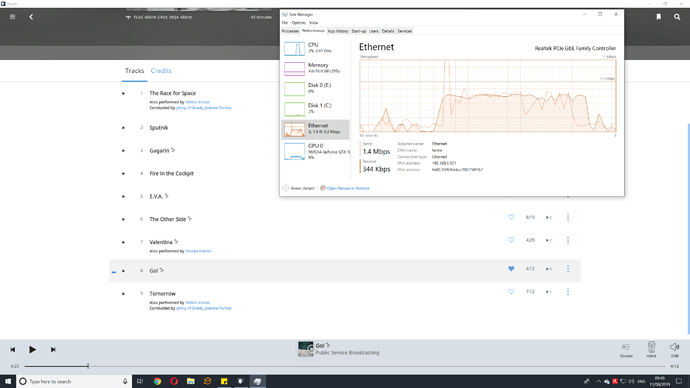 Any help would be appreciated.