This is an old thread, but I haven't found answer to some of my questions:
I am trying to find the best setting to play DSD256 files without Dropouts and max sound quality.
I have Roon on a NUCi7 with 8GB in RAM, run everything though a wired network. One of my endpoints is Allo USBbridge connected to iFi Micro DSD Black. I had originally set Sample Rate Conversion to Max PCM rate and turn on some room correction setting. With this setting I had dropouts all the time. I changed it to the image attached.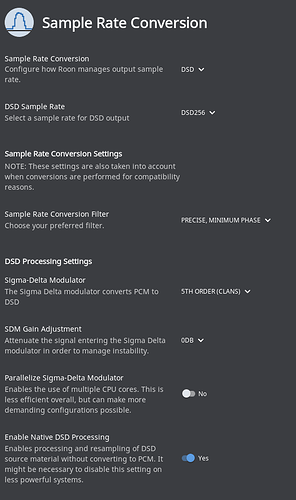 I believe in the current version have enabled Native DSD Processing should do it.
DO I need to change this setting when I play non DSD files?
Can I set something up so that it plays each file with the possible quality?