Core Machine (Operating system/System info/Roon build number)
Windows 64-bit, Roon Version 1.7 (build 610)
Network Details (Including networking gear model/manufacturer and if on WiFi/Ethernet)
400M cable
Fritz!Box Cable 6660 modem/wifi router
Fritz!Repeater 1200
Audio Devices (Specify what device you're using and its connection type - USB/HDMI/etc.)
Bluesound Node 2 (via Wifi, near the repeater)
Bluesound Node 2 (via LAN)
Description Of Issue
I'm not able to stream any Tidal titles using Node 2 connected to Wifi. However all my local files stored in NAS play fine. This device is located very near the Fritz!Repeater. It has worked without any issues for some weeks. I performed a factory reset to it but it didn't help.
Node 2 connected to LAN plays Tidal titles and they play fine also in Windows 64-bit.
Here is screen shot from Roon when I try to play Tidal titles with Node 2 connected to Wifi: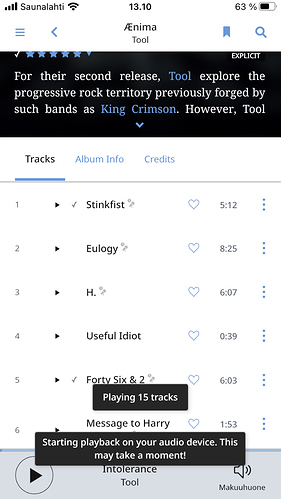 Nothing happens even though I wait for a while.