In the composition screen there are several filter categories of interest for Classical: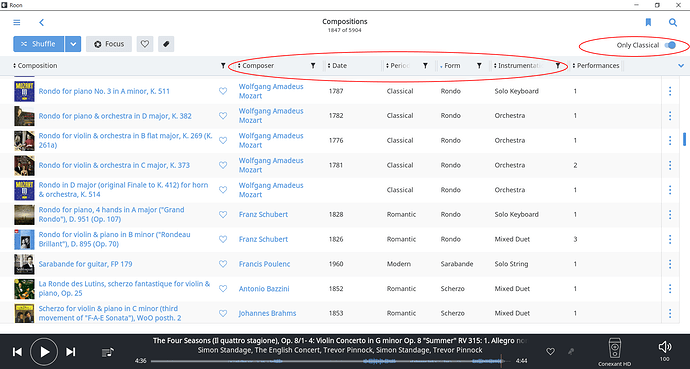 There are problems. The Period, Form and Instrumentation columns are not editable, nor is there a mapping from my tags so that I can fix them. They appear to be entirely populated from 3rd party metadata sources but are frequently empty:
This has been commented on in other threads that there is a lot of interest in the composition screen if obvious gaps in the logic were fixed. A further observation is that there is also no obvious way of doing much search on "Instrumentation" at all, let alone Boolean. For example. If I click focus I get pick list menus for Period, Composer and Form but not Instrumentation: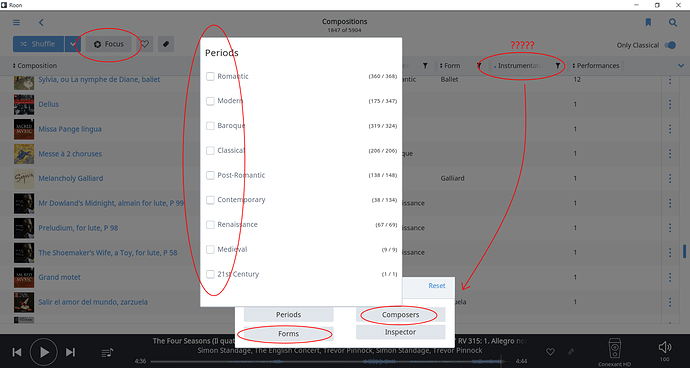 So for example if I want to do a search on Period=Modern AND Instrumentation=Vocal. I cannot do it because I cannot see any obvious way, even with a work around, of searching on Period=Modern AND Instrumentation=(Choir OR Opera OR Vocal Ensemble)
BTW. I sympathize with @AndersVinberg comment that Boolean logic often doesn't work for a lot of users. But properly implemented I think this sort of pick list approach hides that you are actually doing a Boolean search and makes sense even to a very un-technical person such as me.