I sew your question about the Border Patrol DAC!
I have no experience about it, but from that I was reading on the company's website and some reviews.
So does it clearly seems interesting, if you don't want to up sample to more than 24/96! But it's play's TIDAL Masters so I hope that it's also can play Roon MQA (what I think it can, because in my case it's TIDAL Masters from the beginning)! That it's also have Tubes is interesting.
I have sent a email to the company for more information about that format it's playing and also if they have more information about it, like PDF file etc…
But to me it's clearly a interesting DAC and the price is also great depending on what configuration/model that is chosen!
Because if you choose the expensive one, we'll when it's the same money as the Brooklyn DAC! What is more interesting because of it's different formats and it's MQA, also Roon ready!
I don't know there you live? I'm living in Sweden and the USD is low against the Swedish SEK "for the moment" so normally does the Brooklyn cost around 20.000 SEK (it's a normal money for a months working) but now it's down on 16.000 SEK so it's 4.000 SEK cheaper, and for 4.000 SEK it's that I put on food for a month

.
But if I get any answer from Border Patrol about their DAC, so will I get back to you If you want?
Best,
Anders
One weird thing I noticed on the Website. It says:
I suspect this DAC doesn't actually decode (or render) MQA, so that statement strikes me as rather misleading. (I, too, have a non-MQA-capable DAC that will play Tidal Masters, and so do a lot of other people.)
Besides that, if I were going to buy an NOS DAC, I'd want it to be capable of at least PCM384 and/or DSD256, so I could upsample/filter in software and move as much digital garbáge as far out of the audible band as possible. That's kind of important with NOS DACs, IMO.
Just got an SE USB version. Yes, all they say in the reviews are true. This is the real deal.
I already have a Luxman DA-06 which is a great DAC. The DAC is driving Audio Note Oto SE Signature to Devore Gibbon Nines. I was a bit worried that adding BP may be too much of good things, but worry not. Truly amazing for the price. Perhaps Lampizator at 3-4x the price may do even better, but this is good enough for now.
Enabled core MQA decoder, convert DSD to PCM, and all PCM capped at 24/96. It's good to go. No need for oversampling.
Hi Andrew,
what is your exact audio set for DA-06? My DA-250 is pretty similar. That is my audio setup for the moment.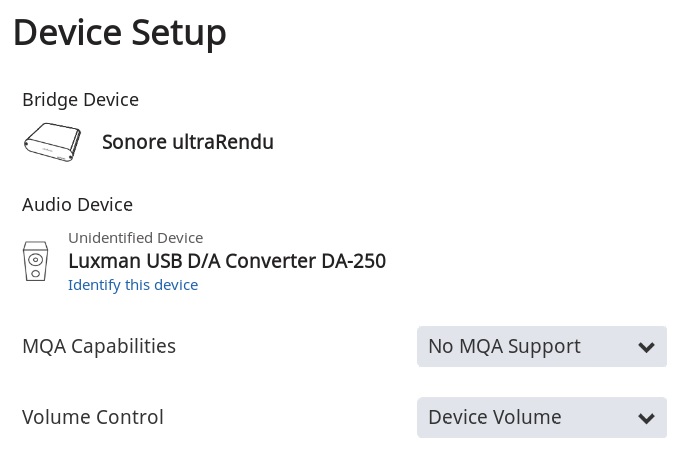 Thank you.
I have a NUC ROCK (7i5BNH) implanted into Akasa Newton with external LPS (Chinese Zerozone which is excellent). Now they are driving ultraRendu powered by Channel Island 7V LPS. My BP DAC SE forced my beloved Luxman DA-06 to a second tier, servicing the TV and movies. Luxman is a very musical DAC but to me BP is even better.
Cheers,