Hi everyone
I have 2 Raspberry Pi: 1 with the IQAudio Pi-DAC+ (configured with the disc image provided by IQAudio: IQ_Roon_pcm5xxx_RC7_closed.img), and 1 with the Allo Boss HI-FI DAC (configured with DietPI).
I am very happy with this material. Sound quality is pretty good, and sound synchronisation between the two devices works very well.
Recently, I had the possibility to rip my SACD discs to ISO files, then converting the ISO file to DSF (DSD64) files.
While the result is very good with the Raspberry with IQAudio, sound quality is very poor with the BossDAC (actually, it is barely audible).
I have interverted the two Raspberry's, and the problem is clearly related to the BossDAC (or to its configuration?).
Does anyone have an idea of what could cause this problem? Of course, I could convert the DSF files to FLAC files. But before that, I like to understand how things work…
I don't know if this helps, but here is a screenshot of the signal path when I play DSF files with the BOSS DAC (on the left) and with the IQAudio (on the right):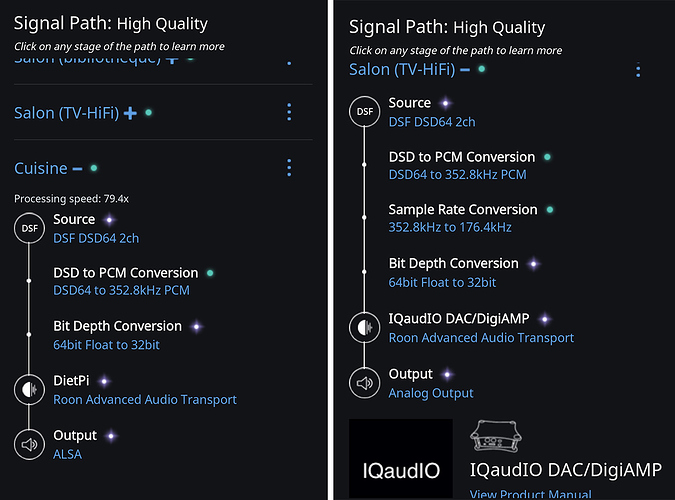 Note that there are other things that I don't understand regarding the signal path: why is it of "High Quality" when I play the DSF files, and "Lossless" when I play FLAC files? Why not "lossless" with DSF files as well?
And why is the output "ALSA" with the BOSS DAC, and "Analog Output" with the IQAudio? What does that mean?
My configuration is rather simple:
Roon server on QNAP NAS
Raspberry Pi's wired connected to the network
1 Raspberry Pi (with the BOSS DAC) connected through RCA output connectors to my Rotel amplifier
1 Raspberry Pi (with the IQAudio hat) connected through RCA output connectors to a B&W A7 speaker
Thank you very much for your help!
Thierry