In 2013, Barclays launched the 'ultimate' boxed set with 21 CD's full of Brel songs. The box is called 'Follow the star' or 'Suivre L'étoile' and it contains some CD's from the two previously released boxed sets.
Tidal has 'Suivre L'Etoile' in their catalog, but some CD's or tracks are not available. I did a rip of the CD's and added them to Roon but there are some issues. Every CD is in a separate folder underneath one top folder. The only thing I changed was the folder.jpg in each directory. I did add the collection in one movement : Roon was stopped while I copied the files to the watch folder.
There are two possible detection results I would be happy with : either 21 separate CD's, or one album with 21 CD's in. What I've got is a mix :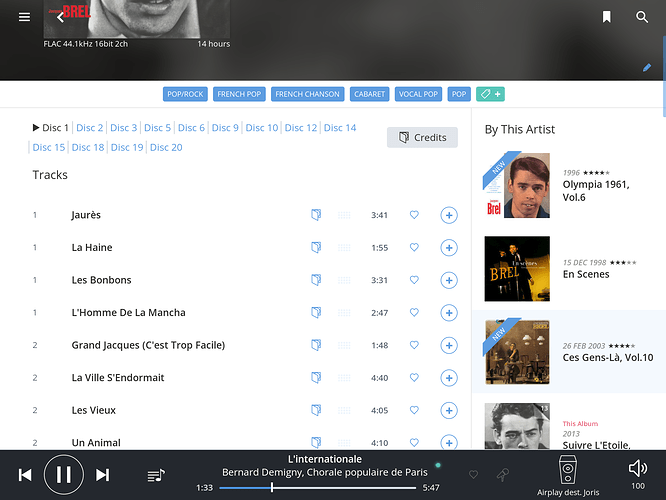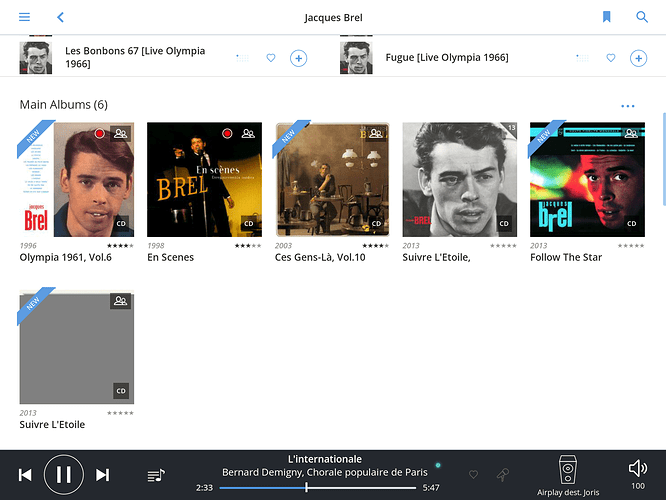 There is an Album 'Suivre l'étoile' with 14 discs in it, and there are 7 unique albums.
I would prefer to have the one album with 21 discs in it. There is an error in the artwork (same problem at Tidal) file provided by Rovi (Is it Rovi ?)
Questions :
Is there a procedure to rectification of metadata errors like corrupt artwork, spelling mistakes etc …
Is there something I could have done while tagging at the file level to avoid this issue ? The tagging was done automatically by CD Ripper from dbpoweramp. I did not change any of the default values so Roon can do his magic.
How can I fix the current situation so it appears as one album ?
Some of the discs like Ces Gens-Lá were previously sold alone and have a disc review. If all discs are combined in one album, is it still possible to view the disc review for one CD ?
Even more difficult: Disc 13, is a combination of a separately sold CD 'Les Marquises' and some tracks Brel considered not yet finished. Is it possible to show the disc review of 'les Marquises' when showing that CD ?
I would really appreciate it if you could help me. Thanks !