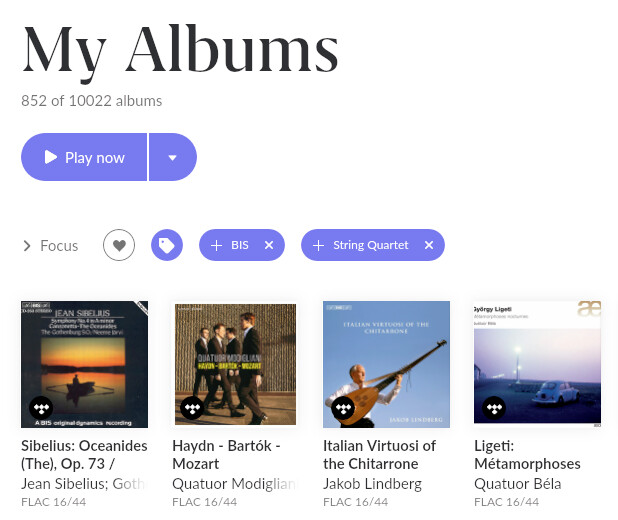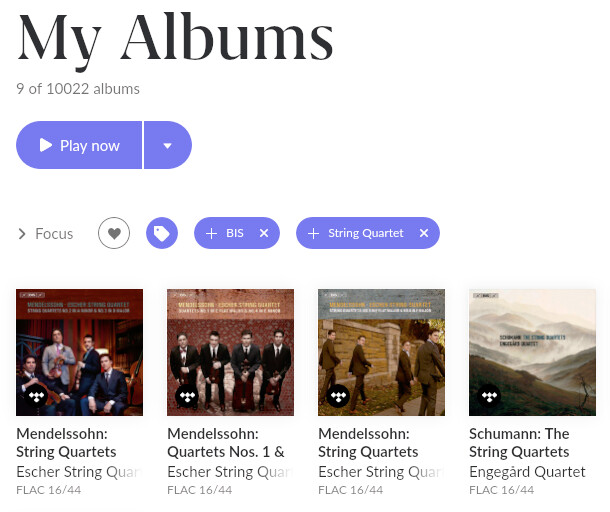 Look at these two screen shots… The selection criteria seem to look the same, right? But the results they give are very different…
In the first case, both criteria are tags - one for albums by the label 'BIS' and the second for albums with 'String Quartet'. Both tags combined are interpreted as a logical 'OR'… show me all albums tagged as 'BIS' OR albums tagged as 'String Quartet'. I can see no option to combine two or more tags as a logical AND.
In the second case, the label 'BIS' has been selected using Focus. Now, adding the tag 'String Quartet', the combination is interpreted as logical AND.
This inconsistent behavior while visually giving no clue at all doesn't seem right to me. We can build a list of selection criteria using Focus criteria, tags or 'hearted' items. All items in the list of selection criteria should behave the same, as long as they are visually shown as the same. The Boolean logic when combining two or more selection criteria is not being consistently shown.
When using tags as selection criteria, combined tags are interpreted as boolean OR, even if the tag's button shows the symbol '+' which stands for AND. Clicking the tag's button changes color to red and it negates the tag's value as NOT, but there is no option for combining tags with a logical AND.