Strange bug here.
I will prefix this with the fact that I'm not sure what the "Compilations" section of the artist's albums is for, since the "with various artists" section seems to have disappeared.
Artist's albums that I have tagged as compilations - i.e. all the tracks are by that artist, though the release is not an official album but a collection of tracks - sometimes appear under "Main albums" and at other times under "Compilations". I'm not talking about different artists - this is for the same artist!
For example, the compilation album appears under "Main albums". I go into the album, look at the artwork, then come out again; now it has moved to "Compilations"!
See here: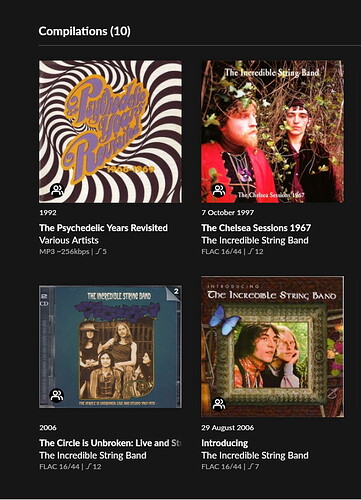 The Incredible String Band's "The Chelsea Sessions 1967" appears under "Compilations". I then go into the album, play a track, and return to the artist view, and it moves to Main albums!!! -
It will keep moving back and forth between the two, as will other compilations in a similar manner. It's worth noting that all the other compilations for that artist move simultaneously, not just the one I'm playing a track from.
I would be very grateful if this could be sorted. I wonder if it's to do with the lack of a "with various artists" section in the artist's view. That needs to be there to differentiate compilations of a single artist, to various artist's compilations!
These are local files, not streaming.