Roon incorrectly differentiates accented characters when it attempts to recognize compositions and link them to metadata. For example, look at this mess: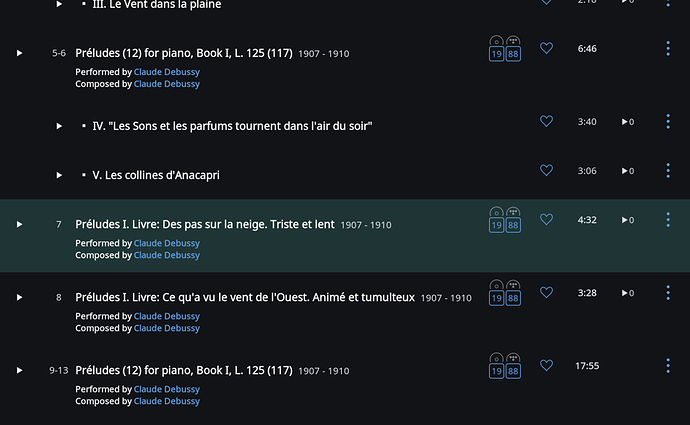 Those five "Preludes" PARTs (and seven others off the screen) should have been associated with one WORK:
"Preludes (12) for piano, Book I, L. 125 (117)"
Why didn't it? After much trial and error, two PARTS were tagged as follows:
"Préludes (12) for piano, Book I, L. 125 (117)"…which caused the screen trainwreck.
I submit that these two should be treated as a match by Roon and grouped accordingly.
Roon has already recognized the need for such adjustments. It has successfully matched "Frédéric Chopin" and "Frederic Chopin" for a least a year now. That same simple idea needs to be extended to compositions.
One other thing: if WORK and PART tags are present, they should take priority over the TITLE contents. Right now, TITLE seems to win out. The Roon algorithm was probably written when few people even heard of the WORK and PART tags, so TITLE was the default source. A simple code change is needed, to wit, IF WORK and PART are non-blank, use them.