Core Machine (Operating system/System info/Roon build number)
ASUS i7, Roon 1.8 b778, Win10
Network Details (Including networking gear model/manufacturer and if on WiFi/Ethernet)
Ethernet wired
Sonore optical rendu
Description Of Issue
After searching for Berlioz Symphonie fantastique:
I am informed of the presence of 7 recordings from my local library:
Note that there are really 8 recordings: 5 in CD resolution, 2 in high res, and 1 in DSD, whereas 7 were announced before. This annoyance comes from the fact that there are 2 digital versions of one recording (one DSD version, one 176 FLAC). Roon should have reported the 2 versions separately, instead of lumping them into a single recording. This is a mistake in my opinion.
The above results were with "Only Complete Recordings" set to on.
If i switch "Only Complete Recordings" to off, if get a total of 13 local recordings:
New conductors appeared, and new performances by others also appeared. Note in particular the appearance of Yanick Nézet-Séguin and Pierre Monteux.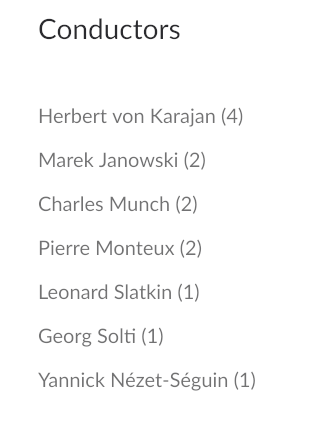 If switching "Complete Recordings Only" from on to off results in the appearance of Nézet-Séguin and Monteux performances, this should logically mean that their recordings are incomplete. The problem is that this is completely wrong, as the 3 recordings by those conductors are all complete.
In the case of Nézet-Séguin we have:
This recording is no doubt complete. The same applies to Monteux 1950 recording:
Why does ROON conclude that the performances are incomplete, when this is clearly the opposite ? Could Roon devs explain the reasoning used to reach such a blatantly false result?
This is clearly a bug, and a serious one, because it may let the user in the ignorance of important performances. With "Only Complete Recordings" set to off, 1500 recordings are reported for Qobuz, and 1278 for Tidal. With "Only Complete Recordings" set to on, the numbers drop to 146 for Qobuz and 141 for Tidal. Over 1000 incomplete recordings out there ? Really ? I have no confidence whatsoever in the Roon selection algorithm.
I hope this bug will be seriously adressed soon.
Regards