Soon no longer sees my Auralic Aries. In build 99 it did, now it"s gone.
There weren't any changes in this area between 99 and 102–assuming the Aries is visible on your network, Roon should be finding it.
Check to make sure that the USB connection to your DAC is plugged in, that the DAC is on, then try rebooting the Aries to see if it comes back. If that works, it indicates that the Aries has stopped advertising its existence to Roon, and gives us a place to continue investigating.
It was (again) the USB link. Hmmm, Auralic needs to solve that, here is no reason this link needs to be active to be able to reach the Aries. Or - it shouldn't be…
If your USB device is unplugged or turned off, the RAAT device is not intended to show up in Roon during that time, just as the device would disappear from Roon if you unplugged the USB connection to your computer when using local output mechanisms.
Roon needs to know a few basic pieces of information about the audio device before it can show the device on the settings screen or make it available as a zone. One important piece of information is the set of audio formats that the device supports.
There are also some RAAT features that depend on continuous access to the device, too (like volume controls, which are available even when you are not doing playback).
I know that Aries has a bug where it fails to recover after the device is removed and replaced. We've sent them guidance on how to fix this a few weeks ago. Do you think that is that what's happening to you?
I'm having this problem intermittently - with build 128. Aries is showing up as an Airplay device but not as a Roon Ready device. Have powered down (multiple times), disconnected USB cable, rebooted Roon Core, no luck.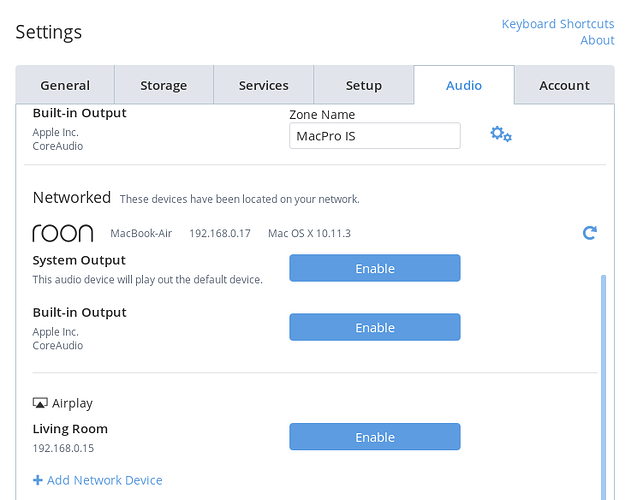 That's the Aries 192.168.0.15
yesterday there was new build 140 released - it seems it have resolved this issue for me yay!