Great, everything back to normal.
@mike Unfortunately I have a new variant of the problem. I located two Bob Dylan albums in Tidal and made them favorites in the Tidal app on a different computer (World Gone Wrong and Good as I Been to You). In Roon, they were visible under Tidal Favorites, but when I tried to add to library, that didn't work. (It is possible that it did work for Good, it may have appeared later, uncertain about the flow here.) But in any case, the behavior for World is quite clear: tried to Add to Library from the Tidal page, didn't work. Went to the album browser where I have that album in AAC format; in the album page, it shows Other Versions (as it always does these days, whether I have them in Tidal favorites or not, but that's another bug). I open the Other Versions dialog, shows the AAC album and View Album on TIDAL > . I click on that link, album shows up, I click on Add to Library; this works, I get a spinner and then I'm looking at the Tidal album page. But immediately, "This album has been deleted" pops up and the screen is blank; back to the album browser and it's only the AAC album. This is repeatable.
@mike Did another test: deleted the AAC version of the album, navigated to it under Artist/Tidal and added it; same thing happened, appeared and was deleted. By being really quick, I was able to see this behavior: Add to Library, looking at the album page with 10 tracks, click on Other Versions, see this Tidal album listed with 10 pages plus the marker for "View this album on TIDAL > ". But very quickly the number of tracks switches to 0, and then the album is deleted.
So two indications, it really is added and then deleted.
I have a variation of the same problem with Build 88. Not all the tracks are being identified nor added.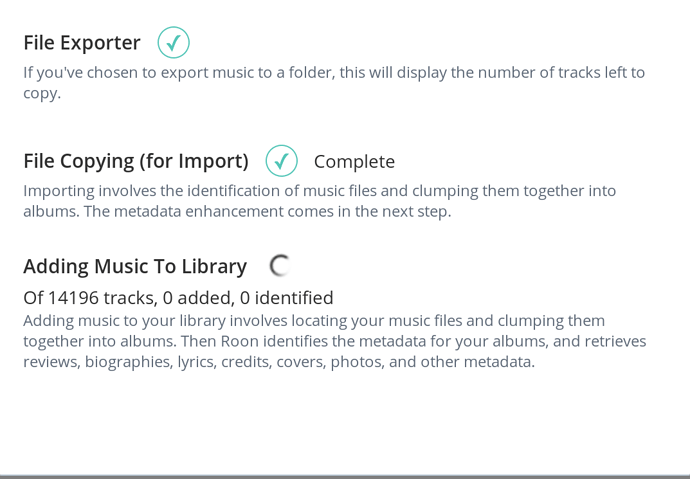 I rebuilt the library, but the problem is still there.
Tidal integration is working fine, though.
Thanks for the help
Macbook Pro Retina (late 2013). El Capitan.
510 albums were added, but it stopped adding the other available tracks for days.
Thanks.
OK, I can help you to solve this issue, but I need to check your logs first. I'll PM you shortly with further instructions.
Thanks for patience.
Yep, I have it too. Same as before. @brian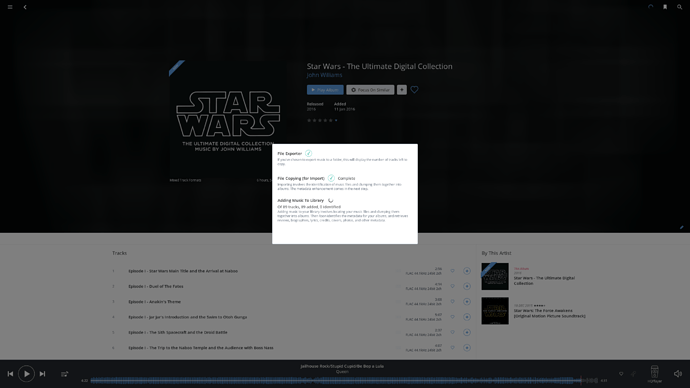 I'm still getting the spinning icon as before and it's still at 0 of 89 identified like my previous post… maybe some more time just needs to pass?
Try restarting your Roon server. It uses an exponential backoff when it experiences failures, so it might be sleeping for a long time before the next retry.
Yep, that did it. Thanks.
Hi all – we believe there are actually 2 issues at play here.
One is some server-side instability that we believe has now been resolved, but which we are still monitoring closely.
The other issue related to a bug which would cause TIDAL syncing to never fully complete. The endless syncing was causing a number of issues, including instability and the failure to add albums to your library described above. This issue was local to the Roon Core, and is resolved in Build 94.
We're interested to know if this issue is resolved for everyone, but this thread is extremely long, so I'm going to close it. If you're still having any issues adding albums to your library, please start a new thread and be sure to let us know all the basic info about your setup.
Thanks everyone!