Dear Staff:
My post is intended as feedback about 1.1.88 compared to earlier builds. If my experience is unique, so be it. If it helps to identify what my experience entails to help refine roon's builds, all the better.
Lately, as with 1.1.88, when adding new albums to roon from my watched folders in which I often customize/personalize the metadata including the correct cover art that matches the CD I just ripped, roon will change the cover art.
That's not my issue. I patiently highlight the album, enter the edit files and click on the correct cover art I selected when ripping the CD. With 1.1.88, I am noticing that roon will change my correction of the cover art back to the selection roon made even though after correcting the cover art and saving the edit. Such that I find myself having to make the correction several times before my editing remains as the selection.
For example: Respighi's Ancient Airs and Dances (Mercury Label), my CD's cover is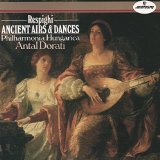 But roon changes that to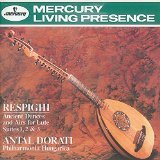 To date I have had to edit roon's change back to "its" selection several times. Is this a bug? And I am noticing that albums added often are duplicated with different versions, i.e., partial tracks (compared to what my watch folder contains) or different listings of artist/album artists as in less than what I originally included. The cure is available. I merely hide the album version replicated that is not the full version. And may have to do this several times before roon stops altering what I choose. And I highlight edit tracks and add my own album title which is often more elaborate than what roon changes the added album contains as well as add my own artist/album artist description.
Just to recap, I am noticing for some albums post 1.1.88 update which I am appreciating, nevertheless, despite the release notes indicating that personal edits of metadata has improved, I am finding I have more correcting what roon decides to change on its own that is different from what I created as metadata in the first instance than ever before with earlier builds.
Cover art changes require the most redo's after changing back. Track titles and artist/album artist remain corrected (thank goodness) but sometimes require a 'redo' after I correct what roon changes.
I am at nearly 9000 albums, and nearly 96,000 tracks. I am fastidious about entering the metadata before adding the albums to roon.
I am posting to provide feedback to the staff and to other members who may also be experiencing similar issues. In every case, I am able to cure the problem.
With another issue, I made the mistake of a using the same title except for Disc X of Y for a 3Disc Box Set, which roon confused all two of the three albums re complete tracks. The fix, was easy: Keep the Disc 1 of 3, 2 of 3, 3 of 3; and change the actual album Titles to the actual compositions on each CD instead of grouping them all together as the common title for all three discs. Once I identified what compositions were on each disc, roon accepted my "organization"; although, several times in the future added incomplete albums back, which I have had to hide (as opposed to delete – never know when to delete so I hide).
I imagine, roon naturally is a work in progress and the updates which are intended to improve earlier builds and impediments need further refining. Understandable, as my overall assessment is that roon is well conceived and functional for the most part, with my appreciation for all the it provides.
Again, my comments are intended as feedback to help innovate and refine how roon is receiving additions to the library from watched folders (not organized folders). I believe I am playing by the rules for metadata editing correctly (or not).
Sorry for the epic post.
Best,
Richard