I have had RoonServer running on my Synology NAS WITH DSM6 for "Years" and updated today to DSM7 and RoonServer was no longer working.
So I downloaded the above mentioned beta Version of RoonServer, changed also the permission of the "RoonServer" Folder to "System Internal User" and "Read-Only". Saved it and try to install, but get always the same error message: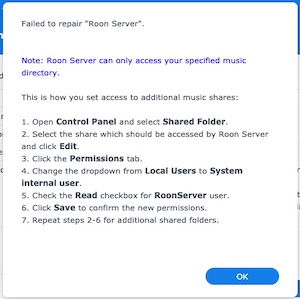 Failed to repair RoonServer, and that I should change my permissions for RoonServer that I have had done.
Juergen