Weird, if I do a search I can't find that playlist in Roon

It does say " Best Of 192 kHz, Playlist - Public by Qobuz Nordic" so maybe region dependent then. What if you look up the specific track that claims to be 192k by Qobuz but here only streams in CD?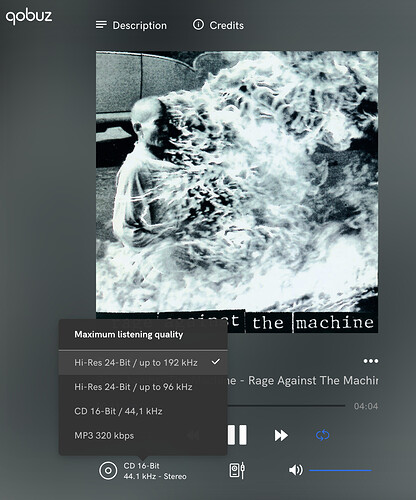 Please try Lumin app, and play the first track She's A Rainbow. I got 192kHz from Qobuz UK account.
If you use Lumin app and you get a different sample rate, then your region is not licensed for 192kHz for some tracks.
If you use Lumin app and you do get 192kHz, then we need to look into Roon setup and see what's wrong.
Found it in the Qobuz app and added it to my favourites and I can see it in Roon now.
Still can't find it by doing a search in Roon though.
Doesn't help you much but I've found a good playlist now

Same track from the 192k playlist in the Lumin app. Must be Qobuz having issues then. I'll reach out to them.
This is a regional license restriction. Unfortunately not much you can do, other than doing the difficult thing of creating a different account that is bound to a different country such as France or UK (the VPN part is easy; the payment regional check is not).
Qobuz should mention this on their website!
What are the legalities around that though? I've seen posts on reddit that using a VPN to Argentina will get you Tidal for around £2 per month
Indeed they should. So it seems like albums listed as 192/24 plays as 44.1/16 and that albums listed as 96/24 actually play as that. Issue seems to be 192k content and licensing.
I cannot answer legalities, but I do know that you get different albums from Tidal / Qobuz accounts of different countries. I have reasons to believe that for Tidal, you get access to the largest collection if your account is in the US.
If you want to confirm the license restriction, you can either ask Qobuz, or if you want to, you can send me your Qobuz account username / password in private, then I'll test it for you tomorrow. After I finish testing you can change your password.
My DAC is after my Lumin U1 Mini streamer so shouldn't matter?
Sorry, I thought Lumin U1 Mini has a DAC inside that would be recognized by your Mac Mini.
Lumin connects to Roon via RAAT over network, not USB audio, so the Mac audio output setup does not affect Lumin.
In Lumin app we also do not provide an option to choose a lower-than-highest Qobuz streaming audio quality, unlike Roon and most other designs. So it is impossible for a misconfiguration to cause a lower-than-desired sample rate to be obtained, other than regional restrictions / wrong album / wrong account / wrong subscription.
You can't search Qobuz/Tidal playlists in Roon, only the ones you have added as favorites will be found. Bug/Feature reported…
Anyways, @Peter_Cantera
Qobuz is not officially launched in Nordic countries yet, and i have several friends who have signed up but seeing the same thing. I think it's an account issue.
I have a UK account with Qobuz since a few years but i am based in Sweden and my Sublime+ is working just fine, with all source media.
So it's not a technical limitation. And not a Roon issue either.
Just in, seems to be working as of right now!
Seems to be a couple of issues with the Nordic region, but anyone there can sign up for an account and start a trial, so it must be officially launched? A few days ago it was invitation only.
I have signed up for an account in Sweden and I can stream Hi-res, but Roon has everything tagged as 44.1/16, so for now, the only way to tell if a track/album is Hi-res is to start playing and check the signal path. Posted in this thread.
The 192/24 issue seems to be fixed in Sweden now