Roon Core Machine
Dell Precision 5520, Core i7 7820HQ @ 2,90GHZ, 4 Kernel, 32GB Ram
Windows 10 Pro 10.0.19043 build 19043
Networking Gear & Setup Details
Roon Core:
AL-PMFI-i7-16G-500G-WIFI PrimeMINI 5 Fanless
Workstation Computer, Intel i7-8665U CPU,
1x16GB DDR4 RAM, 500GB M.2 SSD, 2xHDMI,
3xUSB3.1, 1xUSB2.0, 1xUSB3.1 Type C
(Thunderbolt 3 via Type C), 1xGbit LAN,
WiFi+BT 4.2,
Connected Audio Devices
Cambridge Audio Evo 150
Number of Tracks in Library
no idea
Description of Issue
When I open the Roon Software on my mobile devices, it doesn't allow me to add a new component. Or at least I don't manage, since there is no "Audio" tab where I could do so.
• The Windows PC App wouldn't start. There seems to be a conflict with my Core running on 2.0 and my PC which (even after updating) runs on "Legacy". How can I solve this?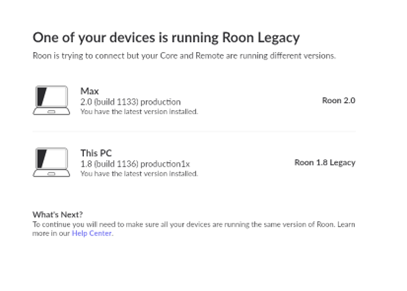 • When my PC and my Core start speaking again, can I add the Cambridge Audio Evo like a normal audio device?
• How does the Core provide the Audiofiles, via wlan or somehow via the Ethernet connection?!
• I want to connect my Roon Core (Prime Mini) as Hi-Fi as possible with my Evo. So a direct USB-connection would be the way to go I guess? What do I have to consider, connecting the two devices?
• Software: How do I find my local files (ripped Minidiscs) on my Rooncore Harddrive?
• I want to digitalize my CDs aswell. Which way of ripping do you recommend to get the best result in Roon?