Roon Core Machine
RoonServer Docker image running on OpenMediaVault 5.6 (Chuwi HeroBox mini PC, Intel N4100, 8GB RAM, SATA SSD, HDD for library)
Networking Gear & Setup Details
Roon Core connected through Ethernet to main router (Arris TG2492 ISP-provided 802.11ac router). main Roon client (Windows 10, AMD Ryzen 3600, 16 GB RAM, NVMe SSD) connected through Ethernet to main router.
Secondary Roon client (Roon Remote on Android, Realme X2 Pro) connected through WiFi.
Also a Raspberry Pi with RooPie connected through WiFi.
Connected Audio Devices
Windows WASAPI Exclusive Mode and SMSL SU-9 DAC through ASIO.
Number of Tracks in Library
Less than 15.000 tracks
Description of Issue
I was using Roon just fine some weeks ago, using my MiniPC NAS as Core and my Windows 10 desktop as client, my Android phone as a remote and a Raspberry Pi as a secondary client, with no problems at all, connection just fine, all my library loaded quickly and DSP activated with no problems (volume normalization and sometimes convolution engine for my Senns HD6XX)
However, a couple of days ago I opened Roon app on my Win Desktop and the "waiting" Roon logo keeps showing without loading the interface. (I didn't open it for some days) First I tried to restart the Docker container of Roon Server, but this didn't work, it keeps loading the Windows app.
The second thing I tried was to reinstall the Windows app, and this lead me to "Choose your Roon Core" screen: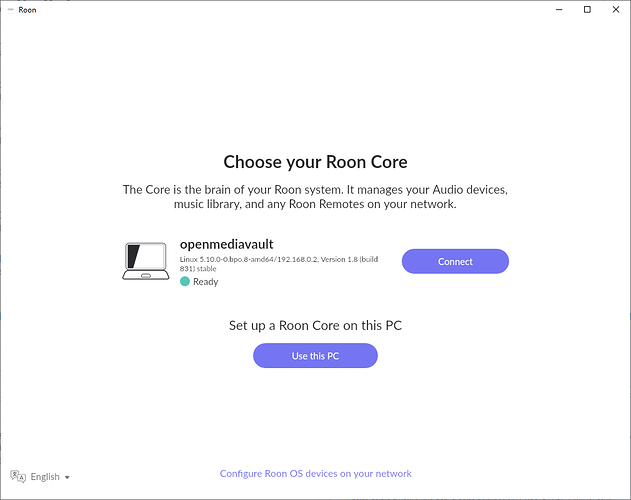 As you can see, the app detects the Core and shows it Ready. But when I choose connect, it shows me the login screen, and if I enter my credentials it says that I have a Core already configured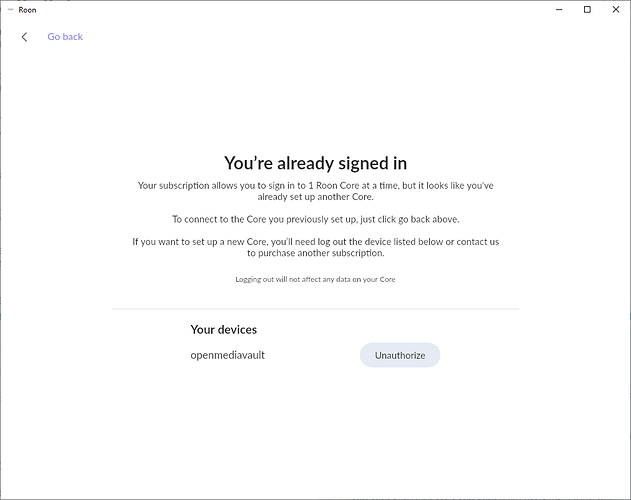 If I choose to go back, it takes me to Core selection screen and the process is repeated.
Yesterday I discovered that the same behavior is happening with Android Roon Remote app, it shows me the Core selection screen but if I tap "Connect" it shows the login screen or simply freezes.
I tried a full reboot of my RoonServer host (miniPC), but nothing changes.
Any help will be appreciated!