I can't find this album using Roon search. Even browsing discog.
This screenshot is Tidal.
Can you find it?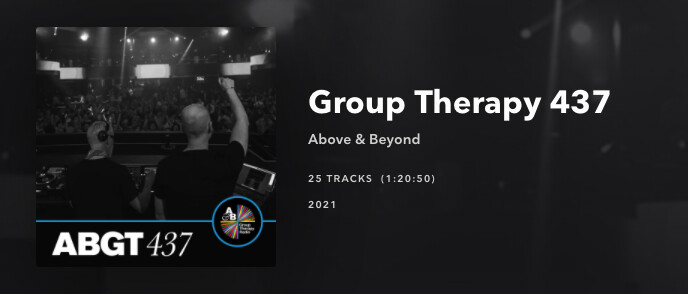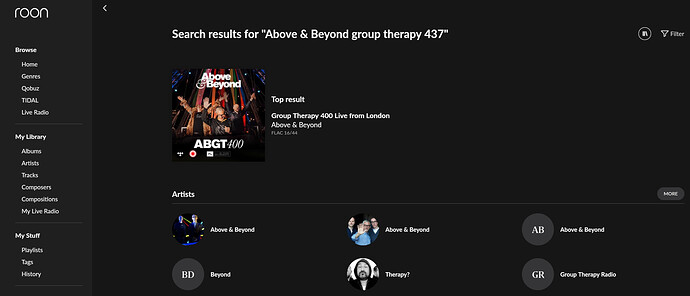 I think that it came out only a couple of days ago. There may have been a delay with the albums integration into Roon. I would try it again in a day or so. Delays that long are rare, but, they do happen occasionally.
Hi @dabassgoesboomboom – Rugby is spot on here. Sometimes there can be a brief delay between an album's release and availability in Roon. It should be available soon.
My thread for Group Therapy 437 is now closed so I can't reply there.
But I can't find Group Therapy 437, 436, 435, 434, 433 etc
433 was released a month ago.
Hmm, not sure about the lack of a specific search result. Cc: @zenit .
I found the album immediately by going to the artist page, then discography, then filtering on "433". Does that work for you?
Yes just found it by filtering.
Direct search fails and I can't sort by release date with newest first, which would easily show those releases I mentioned above (most recent weekly releases).
Actually just found when I click "sort by release date" 3 times it works and shows me the newest first.
Fails to work the first time I try to sort.
I've opened and merged topics.
Can you search for Group Therapy 438 and then add it to your library? Does that populate the discography for you?
Why does "Group Therapy 437" work but "above beyond group therapy 437" doesn't ?(see earlier screenshots).
Added to my library now but sort by album release date does not change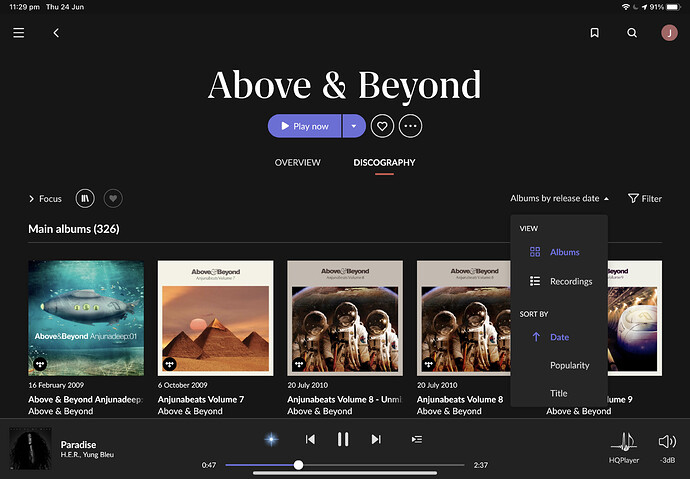 Oh wait… Click the arrow icon instead of the word "Date" to sort descending.

LOL thanks that did it.
You will report the search issue though?
Maybe also clicking word should work too?
If you can please send this feedback to the team we can close this now.
Thanks for this.
Haha, excellent! Yes, I'll pass off this feedback to the team – it seems like there are a few refinements we can make here.