Roon does not recognize this album in the software. It's on my NAS and iTunes however.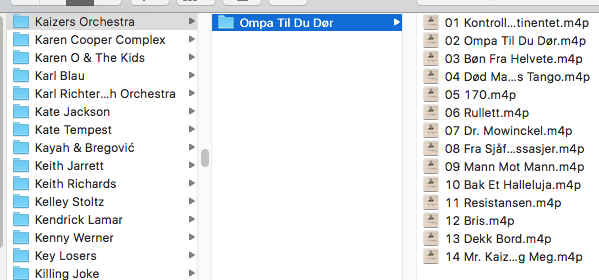 .m4p = old iTunes DRM protected 128kbit AAC file. These will not play in any application but iTunes, because of the DRM.
You should be able to redownload the album from iTunes, in the current 256kbit not-protected AAC format. Roon will be able to read those files as well.
I don't see where I can download the unprotected format from.
iTunes > Store > Purchased.
You'll see all your previous purchases there. When downloading by pressing the cloud+arrow icon, it will download the unprotected AAC256 version.
Not all of them are there. I suspect since some are 10 years old they have been deleted from the history.
It shouldn't – I can still see albums I bought in 2005

Now I see them but it still redownloads them as protected.
Weird. I just redownloaded an album that was released in 2007 and bought immediately. It is in M4A.
Apple lays out the procedure here:
Though rare, some albums on iTunes never have made the transition to unprotected AAC files. Other albums have been deleted from the catalog. They still may be downloadable as protected AAC files for previous purchasers but not for new purchases.
AJ
Glad this DRM mess is some lightyears behind us…
Got some to work. Thanks.
Any files that remain DRM protected will have to be burned to CD, then ripped in order to be imported into Roon. Or will iTunes directly convert DRM AAC to ALAC or AIFF now? I have not used iTunes in the last five years.
AJ
I wish I can get rid of iTunes but my son and wife use it and I have so many playlists.
For music at least.

Just embarking on a journey to 'roonify' (or Plexify at the moment) my DVD, bluray and movie download collection… Two days in. Uuurrrgghhhhhhh.
I struggled to get to the end of my CD ripping. I sense I probably won't complete the movie mission, at least not this year anyway.
(Good tip about the iTunes downloads. I didn't know that. I can recover some lost and ignored purchases)
Luckily I lack the time for anything video. My main selection criterium when buying a TV is how it looks when it is turned of.