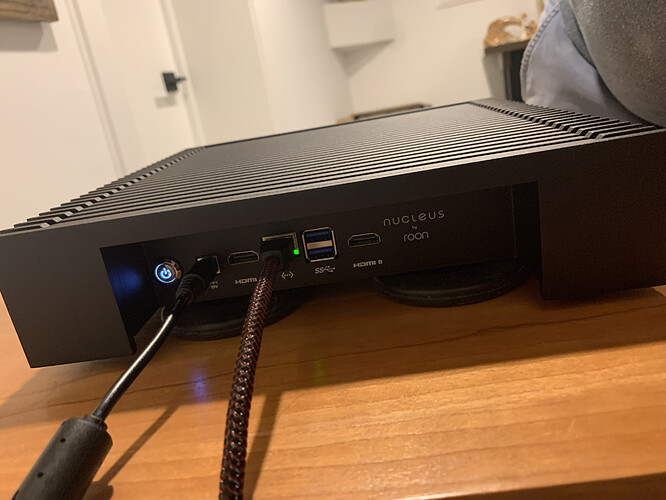 Roon Core Machine
New Nucleus
Networking Gear & Setup Details
CISCO GB Unmanaged switch that works perfectly.
Connected Audio Devices
Number of Tracks in Library
Description of Issue
I just purchased a new Roon Nucleus with 1 TB HDD from my Roon Authorized Dealer. Before connecting it I closed and quit out of the Core I previously installed on an old iMAC. I'm trying to get my new Nucleus to work but it is very frustrating.
I tried using a MacMini, iPhone or iPad all with Operating Systems that are up-to-date. I plugged the Nucleus on my Ethernet Network using my Ethernet CISCO Switch.
When I launch the Roon App a Nucleus icon shows with explanation about the Nucleus at Firmware 1.0 (build 175) stable/::fff:10.0.0.62. Version 1.6 (build 416) stable. Green circle appears below saying Update required. This screen appears to be asking me to Choose your Roon Core. When I press the blue Connect button on my iPad the heading is: Software update needed: Roon is trying to connect, but looks like one or more devices on your network need a software update. I see 2 items:
the First is Nucleus 1.6 build as noted about with a Red Exclamation Mark ! saying Retry Now in Red. Below, it says This Tablet 1.8 (build 970) stable and to the right it says Check for an update with a black Apple logo and wording saying, Download on the App Store Download. My iPad is up to date. When I press Retry now I'm returned back to the screen asking me to Retry now. If I go back to Choose your Roon Core and press the bottom link to Configure Roon OS Devices on your network: It shows the Nucleus at an IP address of 10.0.0.62 and says Done. But if I press the IP address 10.0.0.62 I'm brought to a Roon Nucleus screen where everything says OK and the Networking, Ethernet is set to DHCP with IP Address 10.0.0.62 with Netmask 255.255.255.0 and Gateway 10.0.0.1 and DNS Server 64.71.255.204. It asks if I want to save it.
I've tried reinstalling the Operating System which says it was successful but the version doesn't change, and I tried rebooting several times. I tried hard rebooting with the button on the back of the room Nucleus device. I'm hoping someone or support from Roon can help me. I don't know how to get this Nucleus to work which cost me a lot of money.