How do i change the streaming quality on tidal through the app on iphone.
The Roon app i am talking about.
When using Tidal through Roon on the iphone app can you change quality settings from hifi to masters on the phone itself.
You'll need to do this in the TIDAL app.
Hi do the actual settings have to be done in the tidal app not the Roon app.
What's strange is in the actual desktop Tidal app the quality was set to high and not hifi and was not in exclusive mode but os mixer but the phone app showed it as lossless in exclusive mode.
Confused!!!.
The Tidal app and the Roon app (whether we're talking about the apps on a PC or the apps on a smartphone) are completely separate from each other. The settings made in one have no influence on the settings made in the other.
So how do you change quality settings of Tidal in Roon on the Smartphone from Hifi to Master.
You don't. Roon will show all formats available for a particular release, so you can choose to play the Master (MQA) or an 16/44.1 (Hi-Fi) version.
Take a look on the artists' screen and you'll see multiple releases for many albums. Alternatively, if you have an album in your library, check the Versions tab.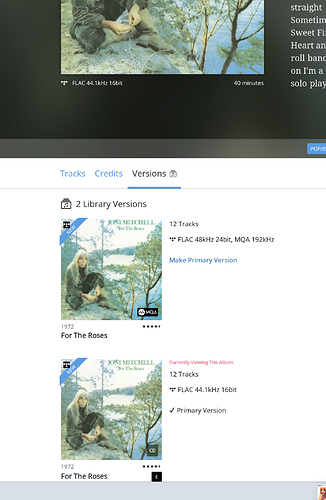 Thanks i was thinking you had to manually change the settings yourself.
If you had a lower tier subscription of £9.99 would it show as mp3 instead of Flac?.
Yes it would show the aac versions only.